DMK nominates Elangovan, Bharathi for Rajya Sabha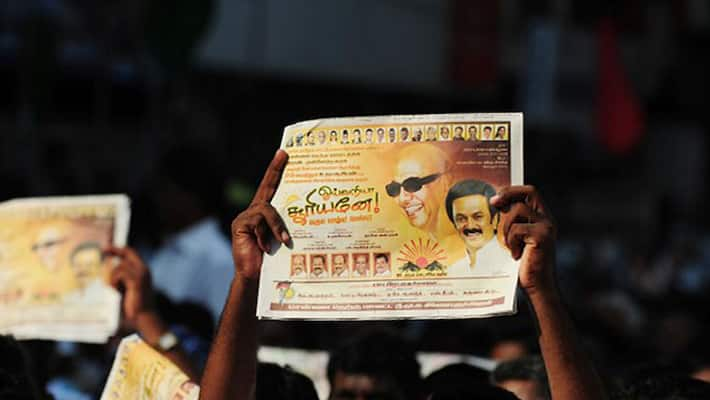 "DMK's Organising Secretary, Alandur RS Bharathi and spokesperson TKS Elangovan will be our candidates for the Rajya Sabha elections," Karunanidhi told reporters here.
Asked about reports that members of Labour Progressive Federation of DMK, were likely to be named for the Upper House vacancies, he said, "Our party's Labour wing will be given priority in next opportunity."
Bharathi, a senior party functionary, is among the prominent faces of DMK in south Chennai suburbs and had been chairman of Alandur Municipality (now merged with Chennai Corporation) for successive terms. A lawyer, he has filed cases over several party related matters in courts.
Elangovan is DMK spokesperson (in party nomenclature he is the secretary, public relations) and was elected to the Lok Sabha in 2009 from North Chennai constituency.
The tenure of six RS members from Tamil Nadu will end on June 29. AIADMK's A Navaneethakrishnan, AW Rabi Bernard and P H Paul Manoj Pandian and DMK's K P Ramalingam and S Thangavelu and former Union Minister and Congress leader Sudarsana Natchiappan are those who will be retiring next month.
Out of the six members, Navaneethakrishnan was elected in 2014 and others in 2010. He filled the vacancy caused by the disqualification of TM Selvaganapathi of the DMK. AIADMK is expected to name four nominees for the elections.
Chief Electoral Officer Rajesh Lakhoni had announced that a notification for RS polls would be issued on May 24 and the last date for filing nominations is May 31.
Scrutiny of nominations would take place on June 1 and the last date for withdrawal is June 3.
Polling would be held on June 11, if necessary, and counting would be held in the evening that day, he had said.
Last Updated Mar 31, 2018, 6:48 PM IST