Diwali bonanza: long weekend, Bangaluru robbers hit jackpot
Robbers broke in and looted valuables worth lakhs during this long Diwali weekend.
Security guards of apartments and others are being questioned.
CCTV footages and other evidence being used to identify the culprits.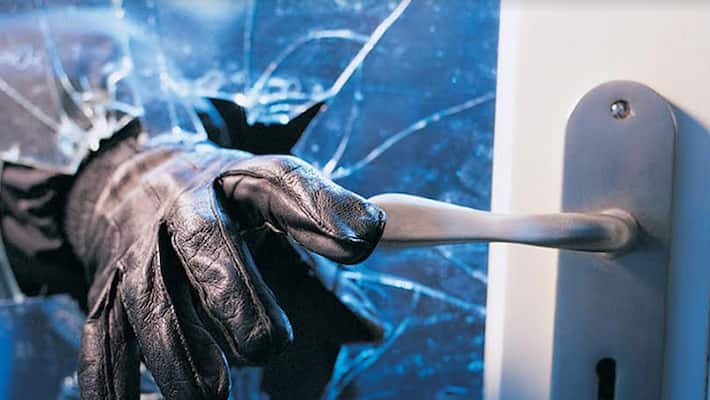 As series of holidays, due to Deepavali – 'Festival of Lights' and followed by 'Rajyotsava Celebration Day' were declared by governance, many people planned their weekend beforehand and went on short vacations and outstation trips, along with their families and friends to enjoy themselves. However, many of them must not have realised that professional robbers could and would amply make use of this opportunity to loot their valuables and hard earnings in their absence. 
During the last three days, robbers barged into several houses in the city and looted hard cash, gold and silver ornaments, jewels and other valuable possessions valuing several lakhs of rupees.
Heist at Kalkere: Ramesh, resident of Kalkere near Ramamurthy Nagar in Bengaluru had been to Chattishgarh a few days ago. Availing this opportunity, the burglars barged into his house by breaking the lock on front door and decamped with 40 grams of gold jewels and also took away the car that was parked in front of the house.
 
As neighbours got suspicious by slightly open door and on verification, they came to know of the theft. The house of Ramesh is on the outskirts of the city and do not have additional security features like CCTV cameras. As such, the culprits easily made away with the valuables, the police said.
Ornaments worth Rs. 7 Lakh stolen: Nandish, a resident of Govianahalli went to Hassan due to series of holidays on account of Deepavali festival. On October 29, he along with his family members went to Hassan and burglars found it a perfect opportunity and decamped with gold and silver jewels worth Rs. 7 lakh from the lockers of the house. When Nandish returned home on Tuesday evening at 6.45 pm he came to know of the incident, the police said. A case has been registered at Kumaraswamy Layout police station in this connection. 
380 Grams of gold theft: D. Sanjeev, a BEL employee and a resident of Jakkur had left for outstation trip with his family members to Hubballi three days ago. Burglars have entered his Royal Homes Apartment in Jakkur and neatly got away with 380 grams of gold and silver jewels. Upon returning home on Wednesday from Hubballi, Sanjeev learnt of the heist that left him bewildered.
In connection with the robbery, security guard of the apartment and some others are being questioned by the police. CCTV camera footages were collected and are being verified and culprits would be arrested soon, the police said. A case has been registered in Amrithalli Police Station. 
Cash and gold jewels stolen: Making use of Deepavali occasion, culprits have broken the lock of the house of Ramachandra, a resident of Hagadooru, at Whitefield in Bengaluru and decamped with gold jewels and cash of 80,000. Ramachandra with his family had been to Bangarpet during the weekend and when returned on Tuesday, they learnt about the theft and a case has been lodged in local police station. 
 
Last Updated Mar 31, 2018, 6:45 PM IST