Development aside, cables now choke off Bengaluru trees
A common sight in Bengaluru are cables lashed around trees.
These cables are supposed to be underground, and kill the trees.
Activists say a cable mafia prevents action against offenders.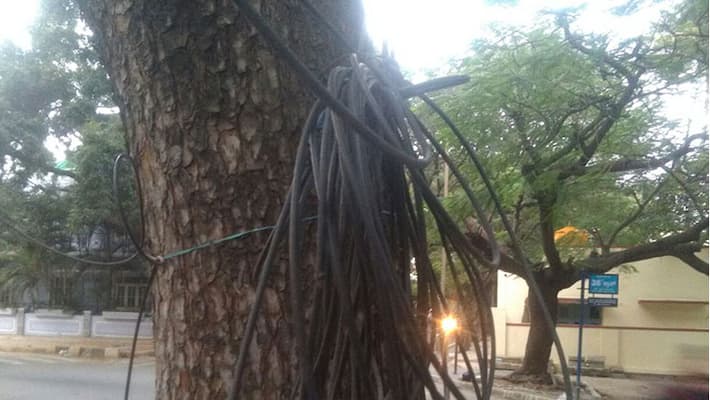 Close on the heels of the tree cutting controversy over the proposed steel bridge, now green activists in Bengaluru have come out with clinching evidence of how a 'cable mafia' was killing trees by spinning optic fibre cables around tree branches. The activists say that the cables prevent the tree from growing beyond a point, killing it. 

The BBMP, which is the custodian of all trees in the city and also the regulatory authority to monitor optic fibre cables, appears to be helpless. Activists allege that this was because of pressure on political leaders by cable companies.

Vijay Kumar, Executive Engineer of Optic Fiber Division in BBMP said that the local engineers were hand-in-glove with a 'cable mafia'. He added that mobile phone service providers also use their political clout to use BBMP property to lay cables. 

The cables are supposed to be underground. But whenever the engineers start to cut the cable, pressure is brought against them, he said.

"From January we will start a special drive and cut the cables. This time the BBMP will declare all-out war against the mafia," said Vijay Kumar.

Vijay Nishanth, Urban Conservationists and a tree doctor, says that the cables choke the trees. "I have rescued many such trees and also have complained to authorities. But these efforts has not yielded any result," he said.
Last Updated Mar 31, 2018, 6:56 PM IST