Seafood demand dwindling in city post demonetisation
Post demonetisation customers are unwilling to open their pockets
Seafood markets in the city are experiencing huge drop in supply due to less demand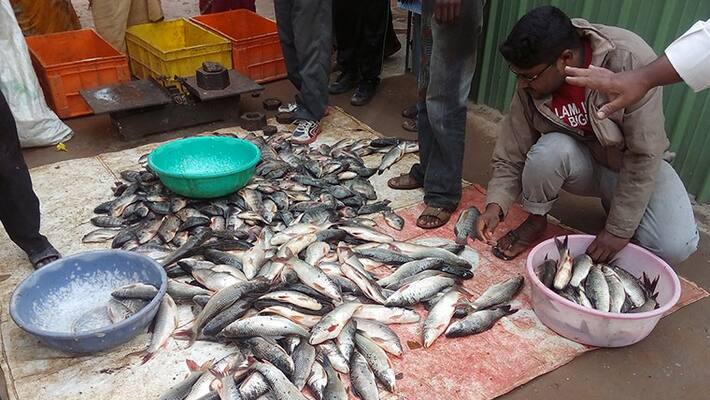 Karnataka hugs the Western coastline with Udupi and Mangaluru bringing up the coast. So the state gets its share of fish regularly, not to mention the several lakes in Bengaluru.
Aquarian life in these lakes are struggling but fishermen are managing somehow. While a few months ago fishmongers were making decent business, now after November 8, 2016 because of lack of ready currency and change, customers are unwilling to open their pockets. The result being a hundreds of kilos of fish are rotting in freezers in the City.
Ifter Ahmed, Head Marketing, Karnataka Fisheries Development Corporation (KFDC) mentioned how the bulk buyers were not coming to place orders at KFDC office at Cubbon Park. Even wholesale markets at Shivajinagar, Yeshvantpur and City Market, have reported a reduction of about 25 tonnes of sale in seafood in Bengaluru.
Also read:Tragedy hits the Bengalis as currency ban spoils their fish lunch
"Bengaluru gets about 60 tonnes of seafood every day, but post banning of big notes and capping on withdrawal of notes, the fishermen have been hit hard. We use to get supplies from Mangaluru, Chennai, Kerala, Hyderabad and Goa but the supplies are hit as many are witnessing loss," said Ahmed, and added at the KCDC head office, which usually gets about one tonne of seafood has off late witnessed a drop in supplies to about half a tonne.
Manohar, a wholesale seafood dealer at Shivajinagar says that the market, one of the larger areas where usually 20 tonnes of fish were previously supplied has also been seeing slow demand. "As there are no customers, at times the fish rots and we have to dump it in the garbage. Post the banning of notes and bank issues, seafood business is going through a difficult time," he said.
Last Updated Mar 31, 2018, 6:56 PM IST