Death toll in Kerala Fireworks tragedy touches 103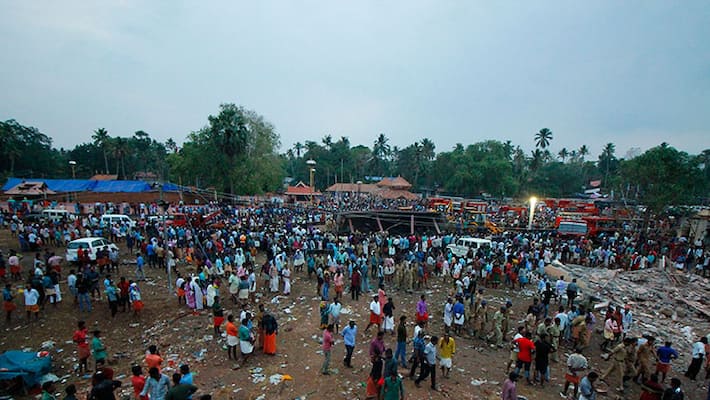 As many as 103 people killed and over 350 injured as fireworks display at Puttingal temple festival went terribly wrong in the wee hours on Sunday. The condition of 77 people wounded in the mishap is critical. 
The state woke up to the shocking news on Sunday as the death lurked Paravur. A massive explosion and fire broke out at Puttingal temple at 3.30 am on Sunday here apparently after a firecracker went off in the building where a huge stock of firework had been kept. The reverberation of the blast was felt around 1.30 kilometre distance from the temple. 
After recovering from the initial panic, people rushed the injured to hospitals. The injured were admitted to 12 hospitals in Kollam and Thiruvananthapuram districts.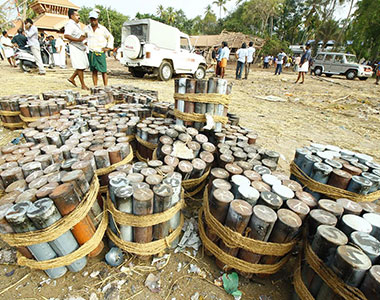 Heartrending scenes were on display in the hospitals and  at the temple ground. The rescue operations are still on. The identity of most the deceased is yet to be ascertained as the bodies are badly burnt and shattered. 
The state government machinery was pressed into action soon after the tragedy. An urgent state cabinet meeting will be held at Kollam at 1 pm. Chief Minister Oommen Chandy visited the Puttingal temple. 
 Prime Minister Narendra Modi also offered all help to the state in the wake of the tragedy. The Prime Minister is expected to visit Kollam in the afternoon. BJP National President Amit Shah will also reach the spot shortly. Congress Vice President Rahul Gandhi is also expected to visit the victims' families today. 
Two helicopters will be sent to Kollam to airlift the injured to hospitals if necessary. Two naval ships will reach Kollam soon with medicines and doctors. 
A crack down on illegal stockpile of fireworks has been started across the state as the documents revealed that the district administration had denied permission to the fireworks display. 
Last Updated Mar 31, 2018, 6:51 PM IST