Darshan back with wife, can stay at Ideal Homes for now
Darshan was seen performing Ayudha Pooja with his wife and son at his Rajarajeshwari Nagar house
Actor's wife Vijayalakshmi had answered the questions regarding demolition of their house at Ideal Homes residence
Single bench of the High Court, hears Darshan's writ petition on Tuesday and said actor can continue to stay there till next order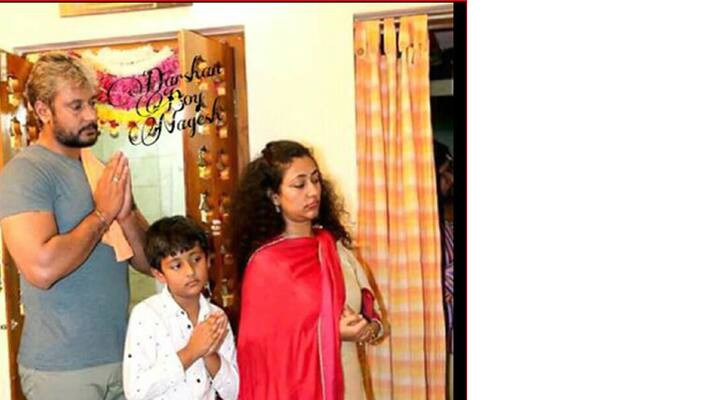 Off late, Darshan is in the news for his tiff with wife and house coming under demolition drive than for his films. However, the news of him getting back with his wife Vijayalakshmi is surely a good news for his fans, who were worried about hearing negative talks about the star.
Meanwhile, the High Court has asked the government to maintain status quo in the demolition drive, under which it had seized Darshan's house. According to the court's order, Darshan can continue to stay in the apartment till further orders.
In the personal front, a few months ago, Darshan was criticised for assaulting his wife and their family feud had become public, with Vijayalakshmi walking out of the house with their son.
Looks like the couple has left behind the differences as Darshan was seen performing Ayudha Pooja with his wife and son at his Rajarajeshwari Nagar house.
Confirming the couple is together, when Darshan was away shooting for his upcoming flick Chakravarthy, his wife Vijayalakshmi had answered the questions regarding demolition of their house in Rajarajeshwari Nagar.
Legal issues started regarding the house, when it was reported that Darshan's house was built on the stormwater drain. His house was marked for eviction under the government's demolition drive. Later, the government seized his house but said it will not demolish the building, intsead might auction it.
Following this, Darshan had filed a writ petition seeking a stay on government's decision. The single bench of the High Court, after hearing the writ petition on Tuesday issued the stay order. In the order it has instructed the government to maintain the status quo till the next hearing. The bench has also instructed the government to file its objection within two weeks.
The authorities had issued notices to several residents of Ideal Homes Layout, including Darshan, on September 28, this year.
Last Updated Mar 31, 2018, 6:37 PM IST