Kerala MLA calls Saritha a prostitute, Assembly watches on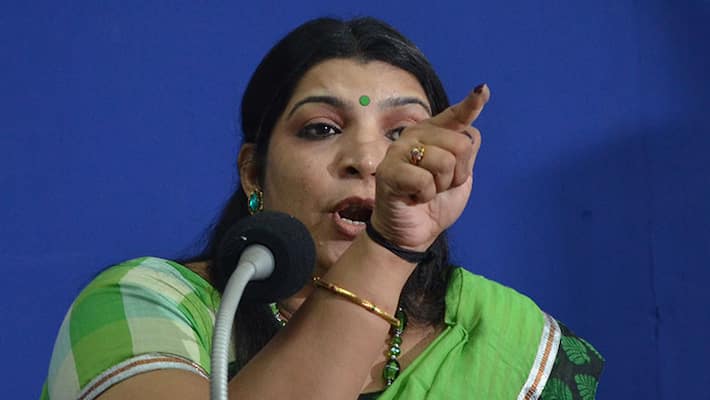 PV Anwar, the independent MLA, from Nilambur backed by the Communist Party of India-Marxist (CPM), termed solar scam accused Saritha S Nair a prostitute during his maiden speech in the Kerala Assembly on Thursday. Surprisingly, no one in the Assembly, including the self-proclaimed champions of women's rights, who would otherwise storm the well for even at the mildest attack on their leaders, raised a finger against the remark. 
BS Bijimol, the fiery woman legislator of Communist Party of India (CPI), who was in the chair at the moment, also did not find anything 'unparliamentary' in the derogatory remark against a lady who is not even a member of the house. 
The CPM independent MLA, using his immunity as a legislator, took the liberty to call Saritha  an "abhisarika" (prostitute) before a packed house while referring to the Solar scam.
He was participating in the motion of thanks to the Governor's address. Chief Minister Pinarayi Vijayan, his council of other ministers, opposition leaders and other legislative members including women MLAs, were present in the assembly when Anwar made the remark, and none of them demanded the comment be expunged from the records of the house. 
 
Also read: Google goof up: Search engine confuses actress Saritha with solar scam accused
 
It may be recalled that the same house had discussed at length a bill to protect the dignity of women three years back! The Kerala Protection of Privacy and Dignity of Women Bill, 2013 was referred to Assembly subject committee two years back for further refinement.  
Saritha, the prime accused in the  Solar scam, had publicly confessed her unholy liaison with many ministers and political leaders in the previous government putting the UDF in a tight spot. A judicial commission is probing the scam, and numerous cases are pending before courts across the state in connection with the alleged financial fraud by the solar power company in which Saritha was a key player. 
Last Updated Mar 31, 2018, 7:02 PM IST