'Gifting' stray dogs to ministers land protestors in trouble
The captured dogs were put in kennels and displayed before Secretariat building.
The mongrels were later abandoned.
The workers brought 19 dogs to gift them to 19 ministers.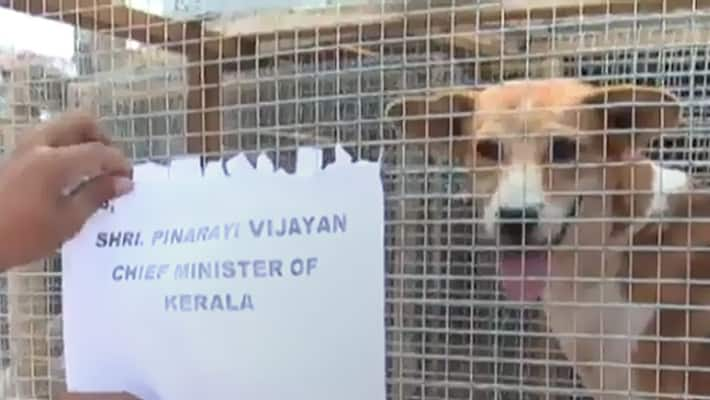 The capital witnessed a disturbing incident on Saturday when Kerala Congress workers took a march to Secretariat with stray dogs all confined in cages and abandoned them in the middle of the road before leaving the venue. 

Kerala Congress leader PC Thomas who led the symbolic protest said they wanted to gift each 19 mongrels to 19 ministers of the Left Democratic Front ministry to invite their attention to the stray dog issue. 

The kennels affixed with names of each minister were later left in the middle of the road by the worker. 

Objecting to the way the stray animals were displayed and later deserted representatives of People For Animals staged a counter agitation at the same venue. 
Also Read: 30 strays killed in Kerala, invites wrath of activists

Cantonment police have registered a complaint against 26 Kerala Congress workers including PC Thomas in connection with the incident.

It is not the first time political parties have issued their wrath on street dogs, a couple of months back the youth wing of Kerala Congress (M) killed, hung at least five stray dogs on a pole and marched to the Kottayam Municipality office.
Also Read: Kerala Congress (M) youth wing kill, hang stray dogs on pole
 

The inhuman act was also an attempt to protest against the failure of the authorities to tackle the growing stray dog menace in the town.
Last Updated Mar 31, 2018, 6:54 PM IST