Congress pivots towards state elections in Nanjanagudu
The Congress is seeing the Nanjanagudu by-election as a primer for the state elections
CM Siddaramaiah himself has campaigned for the seat, after it was vacated by a rebel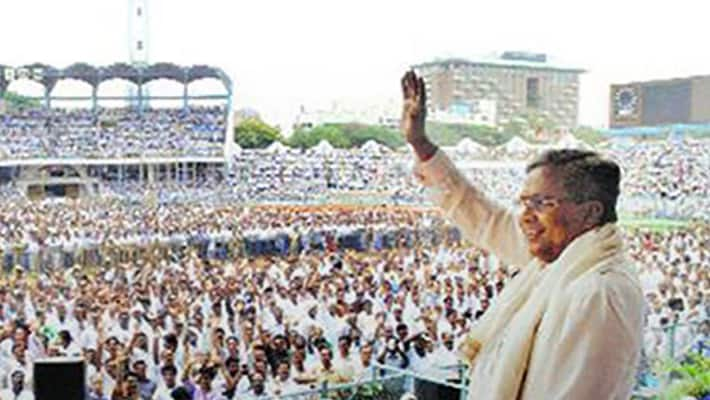 The Karnataka Congress held a massive campaign in Nanjanagudu on Sunday, which many in the Congress consider as a semi final for the next assembly election.
Nanjanagudu will soon hold a by-election as V Srinivas Prasad resigned from his MLA position on 17th October. Though the date of by-election has not yet been announced, the Congress has started its campaign.
Roshan Baig, HC Mahadevappa, G Parameshwar and many other Congress leaders were present in the campaign, alongwith Chief Minister Siddaramaiah.
V Srinivasa Prasad, a Dalit leader, had rebelled against CM Siddaramaiah as the CM had removed him from the cabinet during the cabinet reshuffle a few months ago.
Responding to V Srinivasa Prasad's comment that the government is anti-Dalit, CM Siddaramaiah said that he would not have included Srinivasa Prasad, if he was anti-Dalit and also reminded Srinivasa Prasad that an MLA should work for the welfare of his constituency and should not show his greed for power.
"In order to facilitate Priyank Kharge, another young Dalit leader, into the cabinet, I had to remove Srinivasa Prasad. He thinks that this is an insult for him. Besides, not a single Congress worker requested me to include him in the cabinet. I voluntarily included him," the CM said.
Declining the claims of V Srinivasa Prasad that CM Siddaramaiah won in his last Chamundeshwari by-election by his support, CM Siddaramaiah said that before the by-election he had won elections successively five times.
"Making baseless and irresponsible comments is not a good sign of a leader in a democratic system," he said.
Responding to the massive campaign, V Srinivasa Prasad counter-claimed that Congress leaders were speaking against him in order to appease CM Siddaramaiah.
"CM Siddaramaiah has not understood the questions that I've raised against his administration. I had advised him to remove weak leaders and include efficient ministers in the cabinet," he said.
Last Updated Mar 31, 2018, 6:47 PM IST