Ex-Minister CM Ibrahim alleged of forcing daughter to have an abortion
She had married Ibrahim's brother's son Faizal against her family's wishes
She was our-and-a-half months pregnant and Ibrahim's brother Khader to file a complaint
The Congress party is still mourning the death of Co-operation Minister HC Mahadev Prasad, who died just this morning. His body is not even cremated and a Congress leader has become the talk of the town for forcefully aborting the child of his daughter Ifa.
This allegation was made by Ifa's father-in-law CM Khadar, who also happens to be the brother of CM Ibrahim.
Seven months ago, Ifa had married Faizal, son of CM Khader, against the wishes of her father and family members. She had the nikah ceremony as well as had registered her marriage.
According to Khader, his brother Ibrahim did not want this marriage to happen as his family did not own as much property as they have nor were in an influential position. His son (Ifa's husband) is working in a private company.
However, another theory says that in terms of relations, Faizal is Ifa's brother and that's why Ibrahim's family was against the marriage.
Faizal and Ifa got married seven months ago, and Khader said that he was not even allowed to stay in Bengaluru as Ibrahim got insulted by the wedding.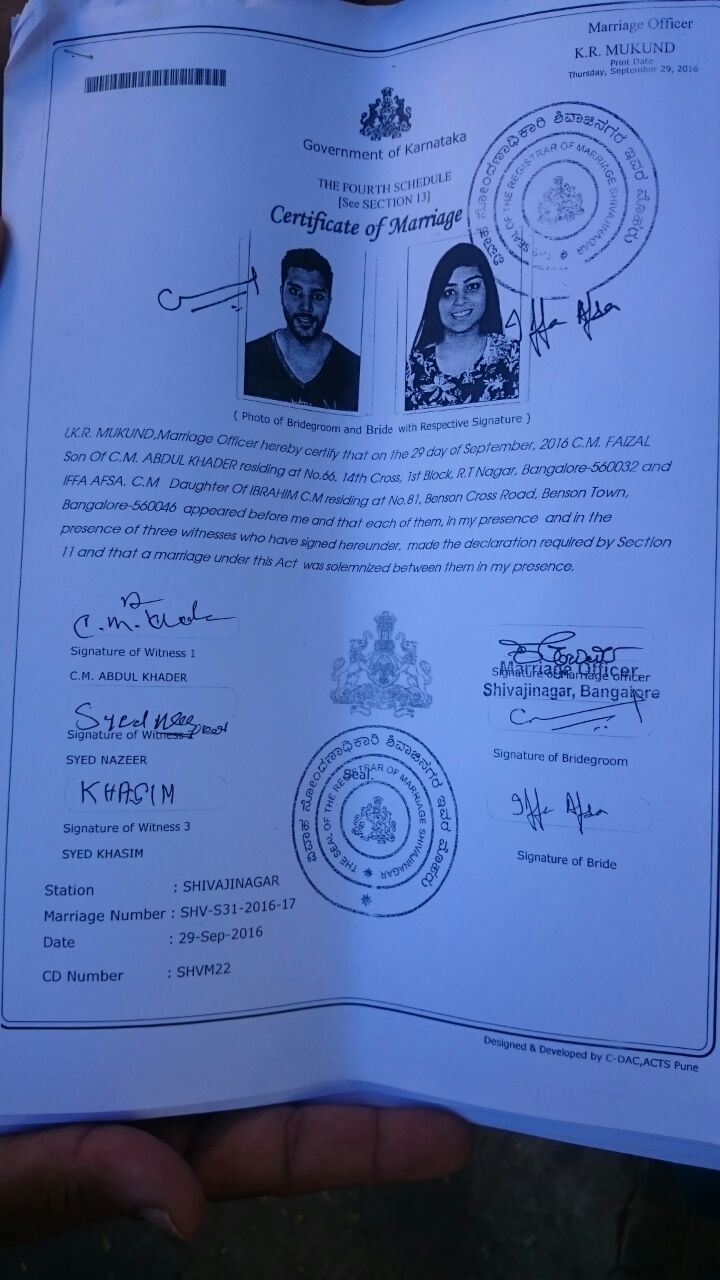 "I did not come before the media, nor made it a big issue because of the respect I had for Ibrahim. I though eventually he will agree to the wishes of the children. Both are major and have married each other with their own will. But all these seven months my family was being tortured."
He said that his daughter-in-law Ifa was called home by Ibrahim, first time after the wedding, after learning that she was pregnant.
Khader said that his daughter-in-law narrated whatever had happened after she visited her parent's house. Currently admitted at Vikram Hospital, Ifa, who was four-and-a-half month's pregnant went home.
In her statement, Ifa said, "I was made to drink juice. I complained that it was sour. But my mother told the fruit (mosambi) might have been sour and asked me to drink it. After drinking two glasses of the juice (in a short gap), I felt dizzy and slept off. After a while, I had a stomach ache and immediately informed my husband, who was in Mysore. He immediately started from Mysore."
Meanwhile, Khader has said that after coming to the hospital Ifa had complained that she was made unconscious and the foetus was aborted without the consent of her husband.
He also said, when asked Dr Venkatesh, who attended to Ifa, he has also apologised that there was a mistake that abortion was carried out without consent from her husband.
In a formal statement, Vikram Hospital, Bengaluru said the following - 
"A young female, 15 weeks pregnant, was brought by family members to Vikram Hospital on 2.01.2017 at 9:20 pm, with profuse vaginal bleeding and was diagnosed to be incomplete abortion of unknown cause. She was posted for an emergency evacuation procedure under anaesthesia in the operation theatre to safe guard the patient's life, consented by the patient, her mother and her sister and the situation did not mandate to wait for the husband's consent. At present patient is stable and recovering in the ICU."
In short, the hospital indicated that the patient was already in the midst of an incomplete abortion and the hospital took emergency medical procedures to save her life. The hospital has not commented on the reason for the 'incomplete abortion'. 
CM Ibrahim was not available for any comments.