Colourful flags, banners adorn Sannidhanam as a sign of harmony
Pilgrim groups use flags to identify other members of the group
Some use same coloured t-shirts, headbands or uniform coloured bags as identification
Flags are placed at a common area where devotees have to join others after darshan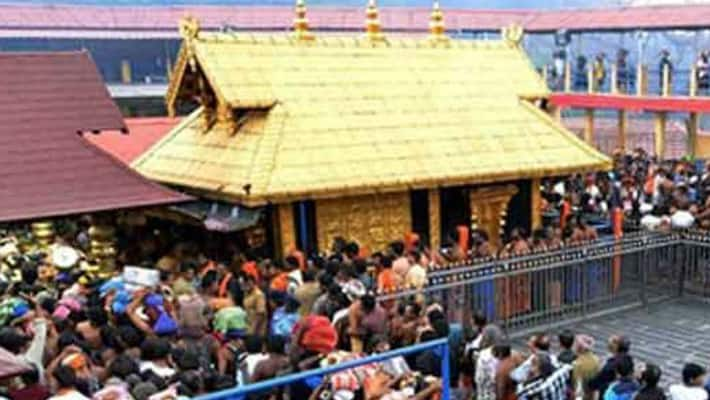 Festivals are about colours, and the same is with Sabarimala, Asia's largest pilgrim centre where millions of devotees gather to celebrate Makaravilakku festival. Flags of various pilgrim groups in all colours and shapes adorn Sannidhanam, the hill abode of Lord Ayyappa. 
 
With the pilgrim season reaching its peak and Makaravilakku festival to be held on January 14, devotees are pouring in from all places across the countries. Pilgrims usually visit the temple in groups and use flags and banners to identify their group members from the rest.
 
Some use rectangular while others prefer triangular or swallow-tailed ones. Banners with the coat of arms and slogans are also a favourite of pilgrims. All banners and flags can be spotted at Nadapandal at Sannidhanam, the main resting place of pilgrims. The area is adorned with these identification marks on either side making Nadapandal a vexillologist's delight. 
 
The banners and flags are placed at a particular area where devotees have to come together after darshan. This will also save believers from getting lost in the heavy rush at the temple. It helps pilgrims identify others in the group. 
 
Some carry the flag as part of their identity. "We have been visiting Sabarimala for past 25 years. We carry flag from then on as a symbol of identity," members of Ayyappa Seva Sangham said. They are using the flag of Ayyappa Seva Sangham, the orange coloured triangular flag. 
 
The flags also contain various information like the place from which pilgrim group is coming. Those from Karnataka prefer the unofficial state flag in red and golden colour while Tamilians carry colourful ones with the divine spear of Lord Subramanya. Some even try wearing same coloured t-shirts or monogrammed shirts, headbands and uniform coloured bags. 
Last Updated Mar 31, 2018, 6:42 PM IST