CM Naidu returns empty-handed from Modi meet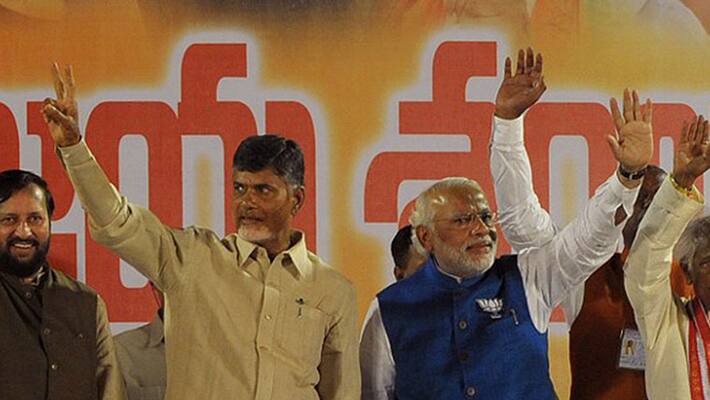 CM Naidu had a 90-minute meeting with the Prime Minister at 7 RCR, New Delhi, amid growing tension in the state between the Telugu Desam Party and the BJP over central assistance to Andhra Pradesh.  

What is interesting is that this was not the first time Naidu submitted such a memorandum, and it was not the first time that the PM had assured him that he would look into it. In the past two years, Naidu has met the PM about six  times. 
Read more: Jagan on fast to oppose Andhra-Telangana water politics

Interacting with the media later in the evening, Naidu's disappointment with PM Modi was writ large on his face. Naidu wondered, "Isn't the duty of the centre to reveal what they are going to do for Andhra Pradesh - which was the victim of a forced bifurcation?" 

The TDP-BJP alliance is under tremendous pressure over central assistance. The ruling TDP deemed the assistance as a pittance, while the partner BJP has asked for a white paper on the expenditure of recieved central assistance - implying the funds were somehow misused. 

For past one month a war of words has been raging between the two NDA partners.
Read more: A house for CM Naidu (and how much it cost the state)

Against this backdrop, Naidu held his meeting with Prime Minister Modi - ostensibly to discuss the drought situation in the state. When asked about the quantum of drought relief offered by the PM, Naidu simply said he had not come over to Delhi for money. "The spirit of the meeting was important," Naidu said, which seemed to be the only solace the CM was bringing home with him.

Regarding the sensitive demand for special category status, Naidu seemed unsure about the NDA's sincerity in implementing the demand, even if it was granted. 
Read more: TDP-BJP rift widens in Andhra over special status Bill

"Ok, let's assume they granted us special status for five  years. You would get tax concession up to 90% and other benefits. What if the centre doesn't stick to it or what if the opposition comes to power next time? See the plight of special category states such as Assam, Manipur, Tripura, Jammu and Kashmir and Himachal Pradesh. They are where they used to be." Naidu said, adding, "I asked the PM to help us till we catch up with our neighbouring states such as Telangana, Karnataka and Tamil Nadu"  

Naidu also met finance minister Arun Jaitley as well in New Delhi.
Last Updated Mar 31, 2018, 6:40 PM IST