CM HD Kumaraswamy, DK Shivakumar and HD Revanna meet secretly at Adichunchanagiri Math
Sri Nirmalananda Swamiji was found comforting Karnataka Chief Minister HD Kumaraswamy in Adichunchanagiri Math, Karnataka.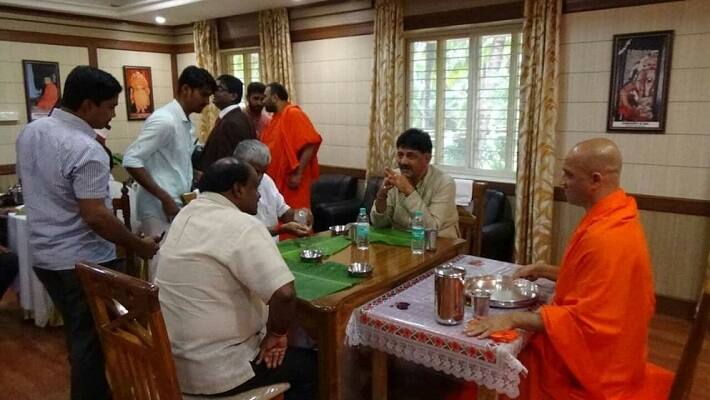 Karnataka Chief Minister HD Kumaraswamy was seen with DK Shivakumar and HD Revanna at Adichunchanagiri Math secretly discussing about the coalition government. The trio was pictured talking to Adichunchanagiri Math head Sri Nirmalananda Swamiji.
According to sources, Sri Nirmalananda Swamiji advised Kumaraswamy, who shed tears while addressing a gathering recently, to not let the coalition government fall. He boosted Kumaraswamy's confidence and told him to run the government for full term of five years.
Sri Nirmalananda Swamiji asked Shivakumar to act as the backbone of Kumaraswamy and said the people of the state had faith in the JD(S) leader. All this conversation took place while the trio was having lunch with Sri Nirmalananda Swamiji.
Last Updated Jul 20, 2018, 4:03 PM IST