Child punished for screaming 'Aiyo'
'Aiyo' is the most used term in Malayalam.
The term is used according to context and is common in all Dravidian languages.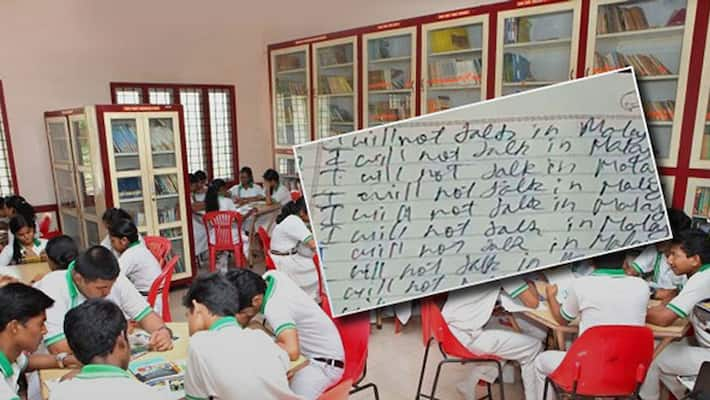 A few months back, the Oxford Dictionary included our very humble four letter word 'Aiyo' to its voluminous pages and defined the powerful term as an 'exclamation' used in southern India and Sri Lanka, expressing distress, regret, or grief; 'Oh no!', 'Oh dear!' But it seems most of the Malayalees are still not aware of it and recently a class V student was made to write an imposition for uttering the word 'Aiyo'.
On Thursday, Deva Soorya, a student of Campion School in Ernakulam was playing with his friends when he shrieked 'Aiyo' accidently. His friend who heard 'the Malayalam word' complained to a teacher who made Soorya write I will not talk in Malayalam 50 times. 
School Principal Leelamma Mathew said that she was not aware of such action taken against a student but parents say it is not an uncommon incident and students are frequently demerited in in their progress report card for talking in Malayalam.
Although this was an isolated incident many of us are aware that in spite of 100 per cent literacy, regional language is still in a state of neglect in Kerala.

 Many writers and prominent literary figures like MT Vasudevan Nair and late poet ONV Kurup had earlier spoken about the role and importance of mother tongue in moulding a person, however,  Malayalam is still not considered as the first language in the state and children are not allowed to talk in Malayalam in some schools.

 With many schools giving more importance to English as a medium of instruction and language among the peer group, Malayalam is replaced by urbanised version of the mother tongue 'Manglish'.

Recently, the Administrative Reforms Department issued a circular asking the government offices to ensure that mother tongue is used as an official medium to promote the regional language. But it seems some private schools in Kerala are in no mood to encourage children learn their mother tongue. 
Last Updated Mar 31, 2018, 6:58 PM IST