Chennithala shields VS to fire at Pinarayi Vijayan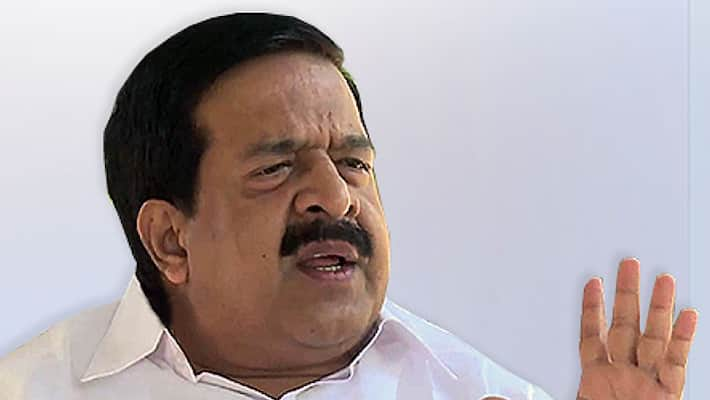 In an apparent bid to create confusion in Communist Party of India- Marxist (CPM) top leadership, Home Minister Ramesh Chennithala posted a volley of questions to Pinarayi Vijayan on Sunday. Most of the questions were based on the views aired by the CPM veteran VS Achuthanandan and were meant to incite the differences between veteran CPM leader and Vijayan.
The first question was on SNC Lavalin scam in which Vijayan had been an accused. Though the CBI court had acquitted the CPM leader in the case, government and the CBI approached the High Court to review the order. The High Court is yet to give its verdict on the case.
Do you agree with Achuthanandan's latest views on SNC Lavalin case, Chennithala asked Vijayan.
It may be recalled that Achuthanandan had, in an embarassing flipflop the other day, corrected his Facebook post that referred to the Lavalin case. He edited out the portion which reiterated that his stand on the issue would remain the same until the upper court pronounced its judgement. Achuthanandan's position against Vijayan in the SNC Lavalin was never a secret and hence the timing of the facebook post had created confusion in the CPM.
Question 2:Achuthanandan said that his stand on the murder of RMP leader TP Chandrashekharan also remained the same. What is your take on that?
(The CPM veteran had taken a firm stance in the murder case in which the CPM stood under the shadow of suspicion. All the convicts in the case were CPM leaders.)
Chennithala also posed queries on CPM's liquor policy and Achuthanandan's statement that the CPM's candidate selection was not upto the mark. The Home Minister questioned the political morality of the CPM in protecting the leaders accused in murder cases. 
Ramesh Chennihala's Facebook Post:
Last Updated Mar 31, 2018, 6:58 PM IST