Jaya health: Doctors urge calm as protests, shutdowns spread in Chennai
Ever since CM Jayalalithaa's admission for cardiac arrest, the city has shut down.
At the hospital hundreds of AIADMK party workers continued to stay put.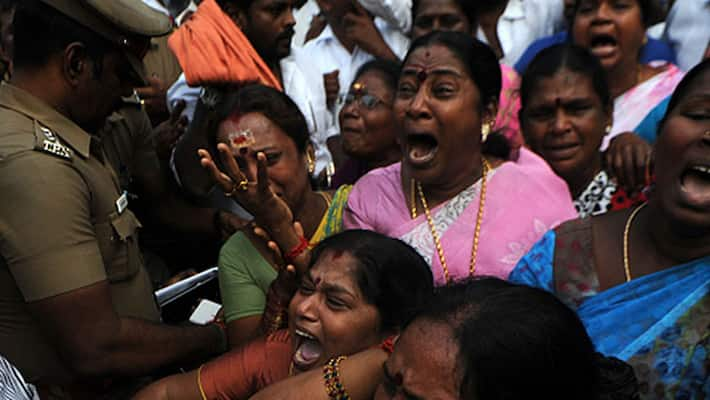 A near total shutdown like situation prevailed in the city with shops and other establishments downing shutters and office goers returning home early as Chief Minister J Jayalalithaa's health condition continued to remain critical today.
      
Watch: Jayalalithaa supporters turn violent at Apollo Hospital
The entire area in and around Apollo Hospitals, where she is being treated since September 22, resembled a fortress with traffic completely halted on the road leading to the hospital and a heavy police posse deployed.
    
At the hospital hundreds of AIADMK party workers continued to stay put and raised slogans saying their beloved 'Amma' should recover.
     
In Pics: Some rare pictures of Jayalalithaa from back in the day
Some were seen protesting against some TV channels, which aired wrong news of Jayalalithaa's health condition earlier in the evening.
     
Elsewhere in the city, a bandh-like situation prevailed with relatively less traffic on the roads.
      
Educational institutions sent students home early in the afternoon, while several offices asked their staff to leave early.
    
Watch: AIADMK lowers the flag, then raises it again
By dusk, roads started wearing a deserted look, even as groups of anxious people huddled in discussions over the condition of 68-year-old AIADMK supremo.
    
Shops, including petty outlets, eateries and departmental stores, closed shutters, even as people stocked essentials.
     
Many bus and suburban rail stations wore a near-deserted look by 7.00 PM itself while the number of private vehicles was also less on many roads.
     
Watch: Jaya fan spends 76 days outside the hospital
The usual weekday peak hour rush was absent with comparatively less number of commuters seen travelling on the Tambaram-Beach suburban train route.
    
The busy Ranganathan Street in the commercial district of T Nagar also emptied soon.
 
A report from Madurai said a similar situation was witnessed in the temple city and many other towns in south Tamil Nadu where shopkeepers downed shutters and people scurried home.
   
Office-goers had a tough time when they left early as many bus services were withdrawn.
   
Read more: My emotions are not for public display: Jayalalithaa
 
The atmosphere in many towns and cities turned eerie and silent in south Tamil Nadu. AIADMK men and women looked sad and sobbing in the party offices in Madurai.
   
Police were guarding all vantage points including lanes and by-lanes as a precautionary measure.
   
Tourists in pilgrims centres such as Palani, Madurai and Rameswaram were stranded with very few buses plying and were forced to go for roadside hotels for their dinner. Even the temples were less crowded.
   
A city bus was damaged when some anti-social elements pelted stones near the district court in Madurai.
 
 
Railway stations witnessed thin crowd with many cancelling journeys even as Railway sources said all trains would be operated with sufficient security.
Last Updated Mar 31, 2018, 6:48 PM IST