'Gau terrorism' is India's world contribution: Devanura Mahadeva
The protest march against Dalit atrocities by Gau Rakshaks was inaugurated in Freedom Park, Bengaluru.
The march will reach Udupi on 9th October where a large public meet is planned.
A district wise legal committee will be formed to assist the victims of atrocities.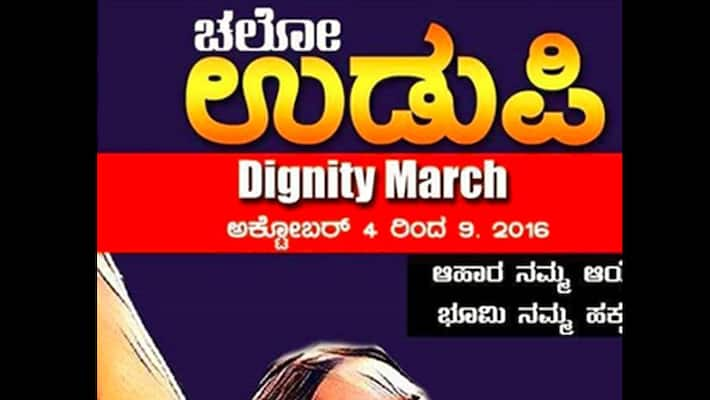 The 'Chalo Udupi' march, under the slogan 'Food is our choice, Land is our right', was inaugurated on Tuesday in Freedom Park, Bengaluru. 
The rally, attended by hundreds of Dalit activists, was in protest against the rising atrocities against lower castes across India by right-wing activists under the guise of 'Gau Rakshan'. 
The protesters, who eventually plan to march to Udupi in Coastal Karnataka, were seen singing, dancing and holding pictures and banners depicting the atrocities against Dalits. The organisers have said that they are inspired by Una Chalo organised by Jignesh Mevani. Incidentally, Jignesh Mevani is expected the attend the grand finale of the march in Udupi on October 9. 
The 'Udupi Chalo' Jatha has organised a large public convention on that day, and more than 25,000 Dalits, backwards classes, progressive thinkers and writers are expected to attend. 
The trigger for the movement was the recent murder of Praveen Poojary, a backwards class youth, who was killed by right-wing miscreants for carrying cows in his goods auto. 

Route of the March:
4th October: Inauguration of the march from Freedom Park ends at Nelamangala in the evening.
5th October: From Nelamangala to Holenarasipura via Kunigal, Channarayapattana.
6th October: From Holenarasipura to Belur via Hassan.
7th October: From Belur to Koppa via Chikkamagalur
8th October: Convention in Koppa and moving to Udupi from Koppa.
9th October: Jatha in Udupi.

Devanura Mahadeva, a renowned Dalit writer and Kannada writer, said that there were many kinds of terrorism in society and India has introduced 'Gau terrorism' to the world for the first time. 

"I don't understand a beef ban in a country where beef is being exported. Ghosts are more active in our country than human beings," he said. 
Former Advocate General Prof. Ravivarma Kumar added that atrocities against Dalits had increased in the country since the saffron party (BJP) came to the power in the Centre. Nijagunananda, a pontiff of Bailuru Math, agreed, saying that country was being destroyed by people who consume ghee, not by people who consume non-vegetarian food.
Last Updated Mar 31, 2018, 6:45 PM IST