Kerala chaiwalla burns ₹ 23,000, vows to keep half shaven head till Modi quits
The small eaterie owner shaved off half the hair on his head to protest against the demonetization.
He also pledged that he will keep the head half shaven till Modi stepped down.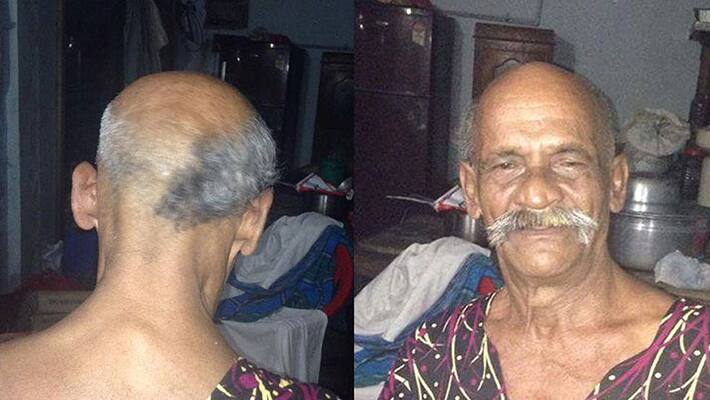 On the second day of the tiresome waiting in front of a bank, Yahia, 70, almost collapsed. His blood sugar had gone alarmingly down. Someone rushed him to a nearby government hospital.
 The first thing he did after returning to his small Thattukada, a wayside eatery near Kollam Railway Station in Kerala, was to burn all the notes worth ₹23,000 in a stove. Those shabby notes were his treasured earnings that he had kept safe in the shop for long!

 After that he went to a nearby barber and shaved off half the hair on his head, pledging that he would keep his half-shaved head until Narendra Modi resigned as Prime Minister. 
On the night of 8 November when the PM announced the currency ban ostensibly to abolish black money, common people like Yahia were badly hit.  As Yahia had no bank account, except the one he had in a primary cooperative bank in his locality, he could not exchange the old currencies he had with him. He waited in queue in vain. 
The centre's restriction on cooperative banks further worsened things for Yahia. He could not withdraw money from his account or deposit there. Life came to a standstill, like many people like him. 
Yahia's story came to light when Ashraf Kadakkal, assistant professor at University of Kerala, narrated the plight of the tea vendor and his family of four. 
Yahia was a coconut plucker before he went to Gulf a few years back hoping that he would be able to earn better. But he was not lucky enough to find a good job there. He soon returned home and opened a Thattukada near the Railway Station at Kollam. At the 'hotel,' he single handedly managed everything -- from cooking to serving and cleaning and keeping the accounts. Still, the tasty Porotta and beef curry combo won many loyal customers. For convenience of working in the eaterie, he used to wear a ladies nightgown, which is commonly known as 'nightie' in Kerala.  
The demonetization announcement came as a shocker for him.  The money he had with him turned just a few pieces of paper overnight. 
"This is my pledge, my protest," Yahia says showing his half-shaved head. 
 Ashraf Kadakkal wrote: "Sorry, Yahia for considering you as a clown in a nightie (Now I realise) until yesterday. Your protest is more valid and powerful than the hartal called by a political party (against demoetization)."  
Last Updated Mar 31, 2018, 7:03 PM IST