Centre grants Rs 800 crore to clean Bengaluru lakes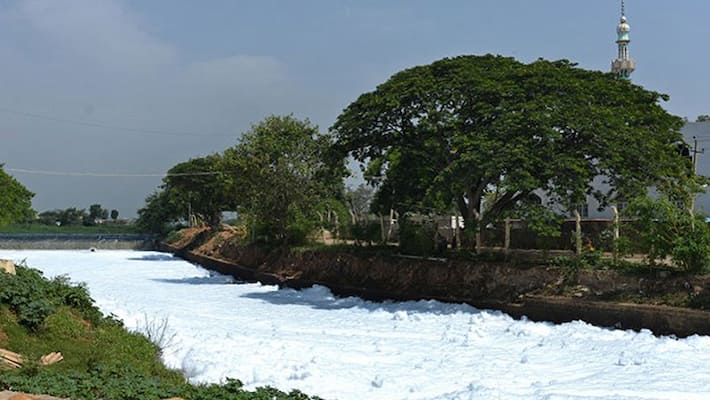 The Environment Ministry has decided to convene a high-level meeting in May to check the "alarming proportion" of pollution in lakes of Bengaluru.
Stating that the Centre has sanctioned around Rs 800 crore under Atal Mission for Rejuvenation and Urban Transformation (AMRUT) scheme to Karnataka to mitigate pollution in the lakes, Union Environment Minister Prakash Javadekar said that he will talk to Chief Minister Siddaramaiah regarding the issue.
"I will talk to Karnataka chief minister today. We will convene a high-level meeting in the first week of May. As regards to pollution in the lakes, it has assumed a serious proportion. Sewage of adjoining areas is flowing freely into the lakes," he said.
1,280 MLDs of sewage is generated per day in Bengaluru while the capacity to treat sewage is 721 MLD, out of which, only 600 MLD of sewage is actually treated this is because out of a total of 520 Sewage Treatment Plants (STPs), 137 are currently non-functional.
Javadekar said that out of the Centre's grant of Rs 800 crore, Rs 500 crore will be directed towards laying down a 74-km trunk sewage pipeline while Rs 162 crore has been earmarked to construct four STPs in Bellandur Lake.
"They (state government) have formed a lake authority. Inspections are being done more frequently now. The central government has kept its promise, now the state government, the local corporation and the authority need to act," he said.
The Union Minister rued that even after 70 years of independence, only 30% sewage treatment capacity exists in the country at present.
Bengaluru has been facing a serious crisis when it comes to rejuvenating polluted lakes in the city.
One such case is that of Bellandur Lake, originally spread over 915 acres, its has now has shrunk to 730 acres due to the accumulation of pollutants in and around the lake.
As a result of untreated sewage flowing into the lake and inadequate maintenance, Bellandur Lake has become one of the most polluted water bodies in the city.
According to a report put forth by Namma Bengaluru Foundation, the water quality test conducted on samples from Bellandur Lake revealed high counts of E Coli and Coliform which makes the water from this lake poisonous for consumption. Also, the low levels of dissolved oxygen in the lake, makes it inhabitable for aquatic life. Due of the presence of industrial effluents in the lake, a dense layer of froth has formed on the lake, which spills over on the adjacent roads near the lake.
Project Save Bellandur Action Plan, an initiative by Namma Bengaluru Foundation, aims to clean up the lake, desilt, construct diversion weirs and also provide natural treatment at two locations before discharging downstream of Bellandur Lake.
According to the report, the 400 crore project is expected to take 2-3 years that will help revive the lake.
"The state government has to take interest to work with us. We have a team of experts who have formed a plan to clean up the Bellandur Lake and rejuvenate it. All we need is the government's support to make this plan a success," said Sridhar Pabbishetty, CEO, Namma Bengaluru Foundation.
The foundation prioritises desilting, removing sludge, treat sewage before it enters the lake, add water resources for tertiary purposes, monitor water quality periodically and create alternate water resources in Bangalore.
Last Updated Mar 31, 2018, 6:50 PM IST