Karnataka calls for yet another all-party meet to discuss SC order
Karnataka government to hold all-party meeting on Saturday at 5 pm, BJP to take part.
Discussion on releasing water to Tamil Nadu, need for advocate to represent in the SC, to decide on next legal course.
As per SC ruling Karnataka has to select representatives for Cauvery management board too.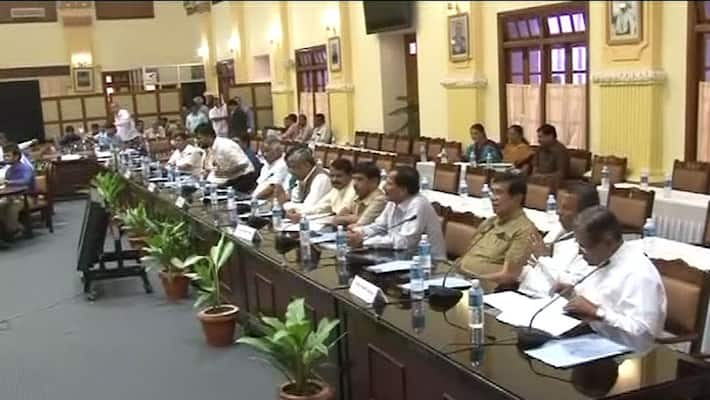 Karnataka Chief Minister Siddaramaiah has convened an all-party meeting here tomorrow to discuss future course of action in the wake of fresh Supreme Court order for release of 6,000 cusecs of Cauvery water per day till October 6 to Tamil Nadu.
    
The Chief Minister has convened an all-party meeting of floor Leaders of both Houses, MPs, including central ministers representing the state, and Ministers concerned of Cauvery basin and district in-charge Ministers, CMO officials said.
    
Taking Karnataka to task for its repeated "defiance" by flouting its orders over release of, the apex court today asked it to release 6,000 cusecs water from tomorrow till- October 6 to Tamil Nadu, warning "no one would know when the wrath of the law" would fall on it.
    
A bench of Justices Dipak Misra and UU Lalit also directed the Centre to constitute the Cauvery Water Management Board by October 4.
    
After the apex court verdict, sporadic protests were reported from Mandya and Mysuru districts where police have made elaborate security arrangements.
    
Speaking in New Delhi, Karnataka Water Resources Minister MB Patil said the government will decide further course of action after going through the judgment and discussing with the legal team headed by advocate Fali Nariman.
    
Nariman told the bench he has unequivocally said he would not argue for Karnataka till the orders of Supreme Court are complied with.
    
Karnataka has maintained its inability to release water to Tamil Nadu citing low storage in its reservoirs and drinking water needs of Bengaluru and neighbouring districts.
    
Both the Legislative Assembly and the Council on September 23 had also adopted a resolution not to provide water for any other purpose except to meet drinking needs, citing "acute distress" and "alarmingly low levels" in dams.
    
The opposition BJP and JD(S) have expressed disappointment over the Supreme Court's order and the stand taken by Nariman, representing the state in the case.
    
Terming court order as "shocking", BJP state president BS Yeddyurappa said the order to release 6,000 cusecs till October 6, does not note of the ground realities. 

Yeddyurappa said BJP has been seeking replacement of Nariman and also that the state government has to go before another bench as it may not get justice from the current bench.
    
"...BJP as a national party suggests Chief Minister not to release water by sticking to the decision taken by both the houses of the legislature, we are with you," he said.
    
Former prime minister and JD(S) Supremo H D Deve Gowda said, "Whatever might have been his differences over the issue of release of water, Nariman could have said one - sentence to the Court when it ordered the constitution of Cauvery Management Board."
    
He opined that the senior advocate could have said the "issue (where Karnataka has challenged the final order of the Cauvery Tribunal) is coming up before a Supreme Court bench on October 18." 
Last Updated Mar 31, 2018, 6:31 PM IST