Cauvery row: Uma Bharti has no answers, promises hunger strike!
Union Water Resources Minister Uma Bharti said arguments of both Karnataka and Tamil Nadu will be put before the Supreme Court
Minister appealed for peace and said both should follow what the SC says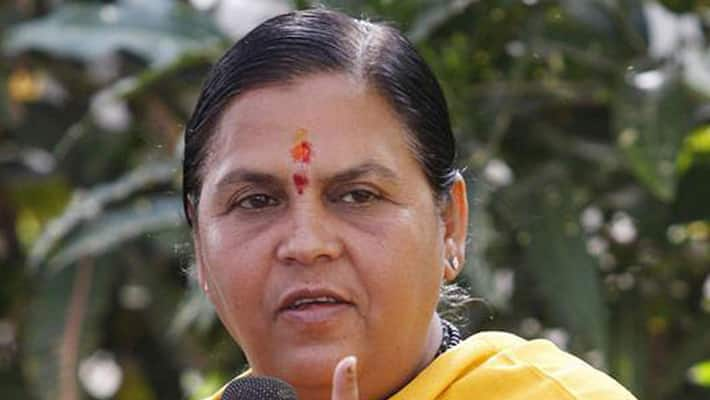 Addressing the media after the meeting, Union Minister for Water Resources, Uma Bharti, said, "We will put forth the argument of both the parties in front of the Supreme Court through the Attorney General," said Uma Bharti.
"If the problem persists after the SC verdict, I will sit on hunger strike on the border of both the states till the problem is solved," she said.
She spoke emotionally about the Cauvery issue and appealed for peace. It looked like she spoke more in the capacity of being a Sannyasin (sage) than a Water Resources Minister.
Meanwhile, she also said that Karnataka's demand to constitute an expert committee to check the water level and to give details of ground reality in the Cauvery basin was rejected by the Tamil Nadu.
Speaking to the media, Minister Bharti said that both the states should take people's welfare into consideration and solve the problem amicably.
She said Karnataka and Tamil Nadu should follow the order of the Supreme Court, which is due for tomorrow.
"As long as I am the Water Resources Minister, I do not want to see any states fighting due to the water issue. Water should build bridges between the hearts of people and should not be a reason for unease."
Speaking about Prime Minister Modi, she said he takes care of all states and cannot speak for any particular state.
She asked both the states to stop making the issue political and implement what the SC says.
The meeting appeared to be little more than a courtesy call, where there was no intention of coming to a conclusion. "I cannot go beyond SC order. So we have called the meeting. I request both the states to solve the issue peacefully and amicably," is what Uma Bharti said. 
Instead of taking facts and statistics from both the sides to consideration, Uma Bharti's appeal in her capacity as a sannyasin (sage) and that her guru (Vishwesha Teertha  Swamiji of Pejawar Mutt) is from Karnataka and his followers are in Tamil Nadu did not make it seem like a serious meeting.
In fact, Bharti also said that in one of the wars (like Kurukshetra) army of both the parties were injured. When asked for water, arrangements were made to provide water for people of both the parties.
Thus Karnataka and Tamil Nadu also should follow something similar and try to solve the problem, she added.
Last Updated Mar 31, 2018, 6:36 PM IST