Cauvery, cash bandh sinks KSRTC, whopping Rs 100 cr in losses
Karnataka's bus service is famous for its profitable ways.
However, this year the service has sunk into heavy losses.
The Cauvery agitation, demonetization and Amma's death have been body blows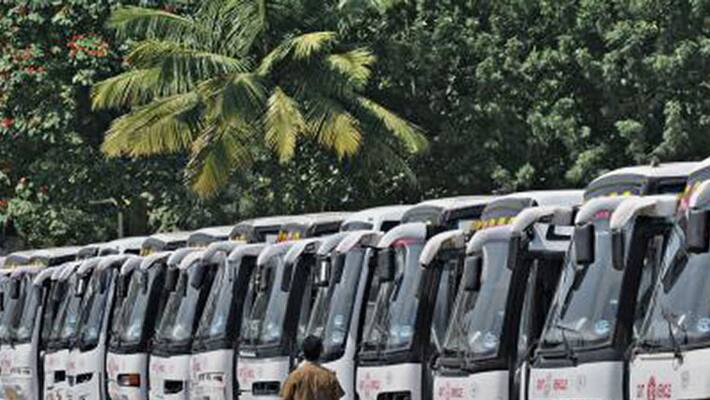 The Karnataka State Road Transport Corporation (KSRTC), which runs its operation on a 'no profit and no loss' principle has witnessed a tough year, with some ₹ 100 crores in losses. 

The month-long agitation over the sharing of Cauvery water with Tamil Nadu, the drop in customers post the demonetization of big notes and the death of Tamil Nadu Chief Minister J Jayalalithaa are seen the main causes of this loss. 

First, the corporation lost about ₹80 crores from June to September as it had to suspend its operations in Tamil Nadu for many days following the violent protests over the Cauvery tribunal's order, which went against Karnataka's interest. Also, at the time, several buses were burnt. 
Just as the KSRTC began limping back to normalcy, it was struck again thanks to the demonetization of big notes in November. 
"Considering the fact that December and January are the peak season for our 'cream route' - with 1,200, Airavats operating in states like Goa,  Kerala, Tamil Nadu and Andhra Pradesh, the bookings dropped considerably. The KSRTC generates major income from these services," said, said Rajendra Kumar Kataria, MD, KSRTC.
During the Christmas and New Year season, people start booking in advance in November and early December. But post the demonetization of Rs 500 and Rs 1,000 notes, the bookings have come down drastically and about ₹18 crores were lost, said Kataria.
Even during the death of TN Chief Minister J Jayalalithaa, the KSRTC had to suspend its operation for three days - which resulted in losses in crores, he observed.
Last Updated Mar 31, 2018, 6:33 PM IST