Cash crunch? Not a problem for super-luxe wedding of ex-Kerala minister's son
The opulent wedding is taking place in a sprawling 80,000 sq.ft. replica of Akshardham Temple Complex.
Nearly 20,000 guests, including VVIPs, are expected to participate in the grand ceremony.
More than 500 labourers worked a month to complete the Bollywood style venue, under the supervision of Mollywood art directors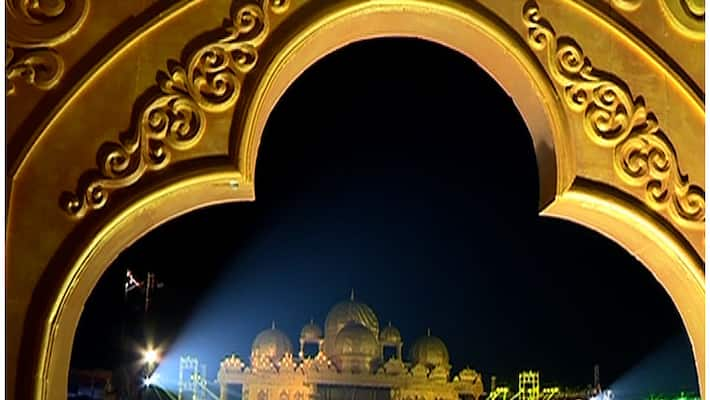 Just weeks after the super-luxe wedding of former Karnataka Minister and mining baron Janardhan Reddy's daughter, Kerala is witnessing an opulent mega wedding of an ex minister's son on Sunday, a few kilometres away from Thiruvananthapuram. Just as Reddy's, the plush wedding of the Kerala politician's son is also unaffected by the currency crunch. 

While Reddy made a replica of Bengaluru Palace, the extravagant 80,000 sq.ft venue for the wedding of the children of Congress leader and former Revenue Minister Adoor Prakash and businessman Biju Ramesh is modelled after Akshardham Temple complex.  Nearly 20,000 guests, including VVIPs, are expected to participate in the grand ceremony. 
 
Watch: Video of the sprawling wedding venue modelled on Akshardham Temple
More than 500 labourers worked a month to complete the Bollywood style venue, under the supervision of Mollywood art directors Sabareesh and Shaji. Scores of VVIPs, including Tamil Nadu Finance Minister O Paneer Selvam, will visit Thiruvananthapuram to bless the newly wed. 
The alliance between families of Biju Ramesh, the controversial businessman who opened a Pandora's box for the former UDF government in which Adoor Prakash held the Revenue portfolio, by raising the bar bribery allegations, had kicked up a political controversy within the Controversy. 
Biju Ramesh, the leader of Kerala Bar Hotels Association who later joined the All India Anna Dravida Munnetra Kazhakam (AIADMK), had ceaselessly raised allegations against former Congress-led UDF government that eventually led to the unceremonious exit of the then Finance Minister KM Mani from the Oommen Chandy cabinet. The hotelier had alleged that the bar hotel owners gave crores to ministers of Oommen Chandy cabinet as a bribe to get their liquor bars exempted from the policy initiated by the government.  

 
Known as the bar bribe scam, the allegations cost dearly to the Congress and the UDF. The opposition used the allegations in the elections, and prominent Congress leaders including former Excise Minister K Babu lost the fight.
The betrothal ceremony was held in the capital city on 23 June and was graced by both the LDF and UDF leaders. 
Meanwhile, Biju Ramesh told Asianet News that currency demonetization affected the preparations for the marriage. "I struggled to get currency needed for the preparations," he said. But his friends and relatives helped him to overcome the crisis, he claimed. 
Watch video of the betrothal ceremony of Adoor Praskash's son and Biju Ramesh's daughter: 
Last Updated Mar 31, 2018, 6:32 PM IST