Amid clamour for culling dogs, people build a memorial for a stray dog in Kerala
People of Pallippuram in Kozhikode built a bus stop named after the street dog Udhandan.
Udhandan was a friend of women and children in the locality.
The dog died three months back and the public wanted to make a memorial for him.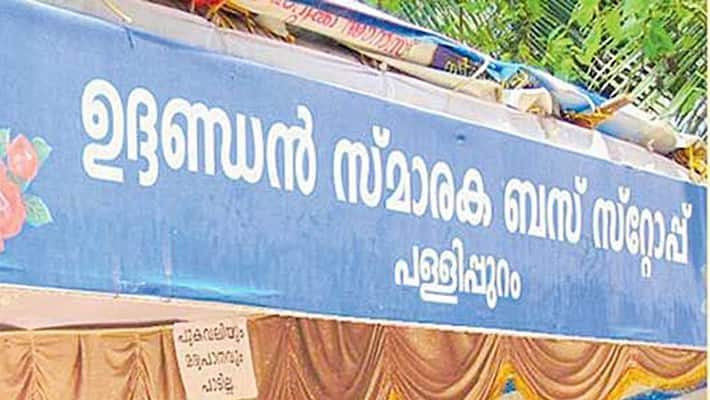 Udhandan was no ordinary stray dog. Nor did they consider him an 'outsider.' 
When the Udhandan, a stray dog at Pallippuram in Kozhikode died nearly four months back, the public outcry to finish off all the strays was very strong. Now, after two deaths in stray dog attacks in a matter of four months, the public demand for mass culling of the canines is at its peak in Kerala with the state Assembly unanimously urging the government take steps to eradicate 'dangerous' strays. 
Also read: Kerala legislators rip, troll Maneka for her 'love for strays'
But that did not deter the people of Pallippuram to build a memorial for Udhandan. A bus waiting shed with a big photograph of the dog stands at the spot where he used to recline by the road. It also sports 'Udhandan Memorial Waiting Shed' in big bold letters!
Well, he was no ordinary stray, they vouch. Rather, he was part of their social life, helping them in his own ways and leading a happy life. 
He arrived at Pallippuram, situated on the outskirts of Kozhikode city in north Kerala, seven years back. He seemed to like the place and its people; and made fast friends in the locality. Someone christened him Udhandan, and the name stayed with him. 
The local people recall that he used to help them in many ways. Unlike some ferocious strays who scare away children, Udhandan was a trusted guard. Sometimes, he would be seen giving company to children when they walk to schools. When the last bus reaches Pallippuram late in the evening, he used to accompany women till they reach their homes safe. If somebody gave him food in return, he would gladly accept it. 
He loved children and was more than happy to play with them in the puddles in the paddy after a rainy day. He led a contented life, they recall. 
If it's not raining, Udhandan would be seen resting at the spot where his memorial stands now. When he died, people bid a poignant farewell to him. His death made news. People in the locality felt the need to immortalise his memory and it has become a reality now. 
  
Last Updated Mar 31, 2018, 7:06 PM IST