Bomb blast at CPM state secretary's public meeting; Kannur tense again
The crude country bomb was hurled at the crowd by an unidentified man who sped past on a motor bike.
Pinarayi Vijayan promised stern action against perpetrators.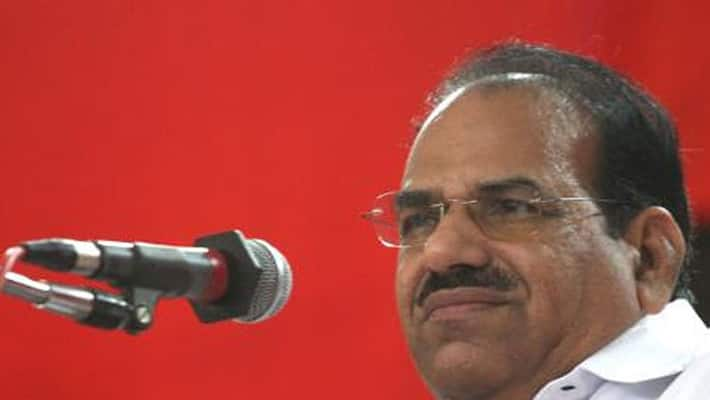 The violence-prone Kannur in Kerala is in the grip of tension once again after a crude bomb blast near the venue of a public meeting organised by the CPM on Thursday evening. The party state secretary Kodiyeri Balakrishnan was addressing the gathering when the bomb thrown by an unidentified man blasted, triggering panic. One CPM worker sustained injuries in the incident.
Reports quoting eye-witnesses said that the crude country bomb was hurled at the crowd by an unidentified man who sped past on a motor bike. The incident took place near Temple Gate at Thalassery in Kannur, a hot bed of political violence in the state. Though the party workers tried to catch the culprit, he escaped on the bike. A DYFI leader suffered injuries in the blast.
Condemning the attack, Chief Minister Pinarayi Vijayan warned that the criminals behind the attack will not be forgiven. He promised stern action against the criminals. 
The CPM alleged that the attack was the handiwork of the RSS. The CPM took out protest marches across the state soon after the incident. CPM march at Vadakara in Kozhikode turned violent, and the party workers attacked the local office of the BJP. 
 
The BJP leadership distanced from the incident and blamed the CPM for the blast. It was a freak accident, said Satyaprakash, the district president of the BJP. A CPM worker was keeping a bomb to attack BJP workers. But it accidentally went off, the BJP leader claimed. 
 
BJP state general secretary K Surendran said that the reports that the blast at Balakrishnan's meeting venue was a CPM propaganda. The blast took place at Kommal Vayal, 750 metres away from the venue of the CPM leader's meeting. The information was passed on to media houses by CPM MLA AN Shamseer. "This is a vicious propaganda by CPM,"he added. 
The blast occurred at a time when the BJP and the CPM were engaged in a verbal war over the murder of a BJP worker at Thalassery allegedly by activists of the Communist party two weeks before. The RSS had taken out a protest march to the Kerala House in New Delhi on Tuesday, coinciding with Vijayan's visit to the national capital. 
Alleging that the CPM was unleashing violence against its workers, some BJP leaders had warned that the Kerala's ruling party will have to face the consequences if it did not stop killing its workers. 
Last Updated Mar 31, 2018, 6:54 PM IST