Father prevents wife from breastfeeding newborn baby
The baby was born on Wednesday at Mukkom government hospital.
The child's father did not allow the baby to be fed for 24 hours.
The new born should only be fed after five Islamic prayer calls (adhan), its father insisted.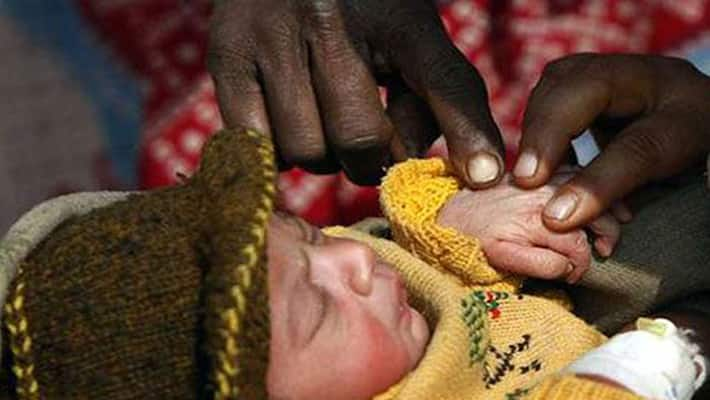 A newborn was denied breast milk for 24 hours in the name faith by its parents in the 'progressive Kerala!' The baby's father insisted that the child should only be fed after five prayer calls (Adhan). 

The shocking incident unfolded at Mukkom government hospital on Wednesday. The baby was born at 2:00 pm to Omassheri native Aboobakar and Afsat. After a few minutes, the doctor asked the child's mother to feed the baby, but she refused and revealed that her husband would not allow her to do that. 

When the doctors advised Aboobakar that denying breastmilk could endanger the life of the newborn, he stuck to his stand saying he was only following the instruction of a 'holy man' who had directed against giving milk to the baby till five adhans are over. Instead, the child can be given 'blessed water' provided by the holy man. 

The newborn was kept starving for almost a day by the child's father who gave in writing that he would bear the consequence and the hospital will not be responsible. 

Though the local police tried to persuade Aboobakar, he said his elder son also had had nothing until five adhans when he was born two and half years back.  
"If a child is not breastfed within 24 hours it could lead to dehydration and even death. The sugar content in the body can go down and affect the brain function and lead to epilepsy,"   Medical Officer Dr Shaji warned. But the child's father was adamant. 
The child was later referred to Kozhikode Medical College Hospital.
Responding to the reports, Collector N Prasanth said that the administration will take action against the father and those who spread such superstitions in the name of religion. "No religion would insist that a new born should be left to starve for 24 hours. Those who preach and practice such things need a real treatment," he opined. 
 
Last Updated Mar 31, 2018, 6:33 PM IST