Kerala Chief Minister mocks Opposition protest, triggers uproar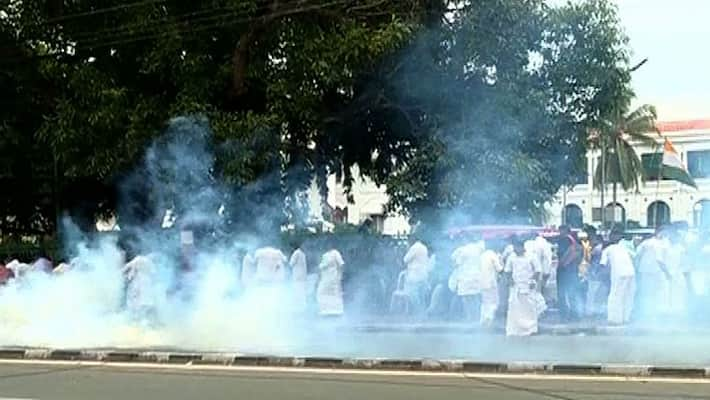 The difference of opinion between the Pinarayi Vijayan-led LDF government and the Opposition over admissions to self-financing medical colleges in the state became all the more tense after the Chief Minister lashed out at the agitation launched by the Youth Congress over the issue, terming it a 'shameless act'.
The agitation, launched by the Kerala Students Union (KSU), the student wing of Congress, and Youth Congress, turned violent with protestors clashing with police twice, before the Secretariat. As many as eight protestors and a few policemen suffered injuries. 
 
Chief Minister Pinarayi Vijayan, in reply to an adjournment motion in the self-financing college issue, said that those who waved black flags at him in self-financing issue were not Youth Congress activists but were hired by some television channel. Vijayan also said that the activists are disrupting normal life and purposefully trying to create tension in the guise of an agitation. 
 
The remarks provoked the Opposition, who asked the CM to withdraw his statement. As Vijayan refused to do so, Opposition MLA's trooped into the well of the House raising slogans against the government. The speaker adjourned the House for the day after he failed to get the members back to their seats. 
 
Meanwhile, a protest march by Youth Congress and KSU workers in front of the State Secretariat, demanding the withdrawal of recent fee hike in self-financing medical colleges, turned violent. When protestors pelted stones at the cops and tried to enter the Secretariat police resorted to a lathi charge. Tear gas and water cannons were also used to disperse protestors. 
Last Updated Mar 31, 2018, 6:38 PM IST