BJP Hartal complete in Kerala; Kannur tense
The cremation of the slain BJP worker to be held at Chavassery in Kannur amidst tight security.
Kannur is completely under police cover. Prohibitive orders in place at Pinarayi, Koothuramba and Thalassery in Kannur.
Hartal complete and peaceful in Kerala.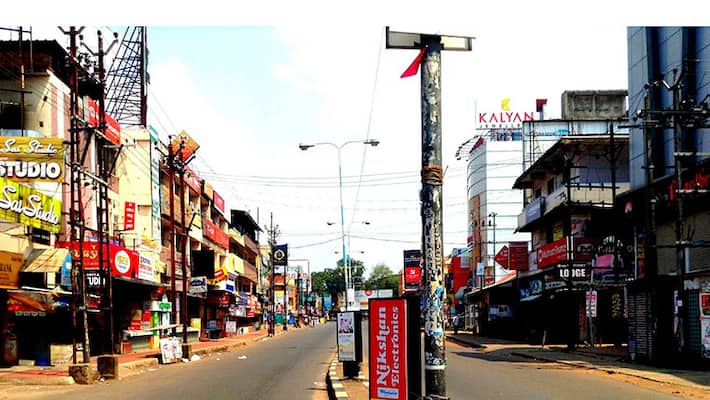 The dawn-to-dusk hartal called by BJP in Kerala to protest the murder of a party worker affected normal life in the state. The hartal is complete but peaceful in the state.  
Shops and business establishments remain closed across the state and transport buses and taxis are keeping off the road. The hartal started at six in the morning. 
Meanwhile, Kannur remains tense after two murders in two days that pushed the district once again into violent clashes between the BJP and the CPM. On Monday a CPM activist was hacked to death in a toddy shop where he worked in broad daylight. In an apparent retaliation on Wednesday, Ramith a BJP worker got killed in the same manner in front of a fuel station at Pinarayi. 
The last rites of the slain BJP worker will be performed at Chavassery in Kannur today as the police keep hightened vigil across the district fearing an escalation of tension. The BJP had demanded the deployment of Central Paramilitary forces alleging that the state police have failed to protect the life of the citizens.  Kerala Chief Minister Pinarayi Vijayan and CPM state secretary Kodiyeri Balakrishnan shot back saying that the BJP and the RSS were trying to undermine peace and tranquillity in the state with the backing of the Central government. 
The investigation team has filed a case against ten CPM workers in connection with the murder of the BJP activist. But no one has been arrested so far in the murder cases. Six company of police have been deployed in Thalassery, Pinarayi, Chavassery and Koothupramba areas in Kannur. 
 
Last Updated Mar 31, 2018, 6:52 PM IST