Birthdays, anniversaries aren't occasions, says Singer Suchitra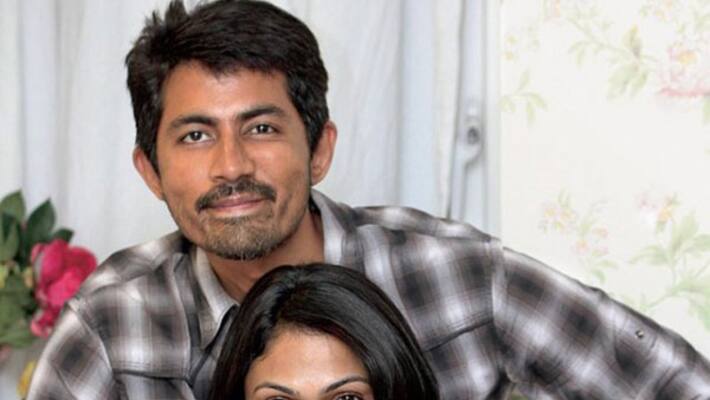 Suchitra Karthik Kumar, aka Suchi, singer, radio jockey and a dubbing artist opened up about her personal and professional interests in an exclusive interview with Asianet Newsable team.
Celebrating 10 years of married life
So, we're (Karthik and I) a bit weird. We don't make an occasion out of birthdays and anniversaries. If we happen to be free, we have nice dinner or something; else there's just this spirit of the fact that it is a special day.
This year we happened to be in Austria and busy with gigs on our anniversary—in fact there was a lot of food from the previous day, in the fridge, so our dinner was warmed-up leftovers with wine.
Karthik and you are from similar fields which makes daily life very hectic indeed.
We spend a surprising amount of time together. We have lovely little rituals - morning coffee and a shared dosa at Sangeetha R A Puram, dinner with the family on Sundays, Karthik's special French press coffee which he makes from curated (yes, he curates) coffee beans for me and our cook every evening, game nights with scrabble, monopoly… Each of these are not big on length of time, but definitely are, on quality.
Also, when we travel on holidays, our time is ours. We don't even 'catch up' with friends or relatives in that country/city. 
Background
I've bent with the wind and gone where my instincts and opportunities took me. MBA, a career in advertising, IT, radio, singing, writing…wherever I found opportunity and felt good about, I did it. I'm glad I didn't let any filters come between me and my decisions. 
Moments when you felt down
All the time! And it has paid off, every single time.
Even recently, at a gig, we were called on to stage exactly at the time when dinner was announced. It was 10.30 p.m., I don't blame the crowd for rushing out to grab some food. We had an audience of 15 people. It felt like a cozy family get-together. We gathered the people around, took requests, joked, laughed, sang whatever they wanted us to, and had a blast. More people joined us, seeing this, but that wasn't even the objective anyway. What a lovely memory this will be for me, even ten years later!
Life doesn't throw you sugar cubes along with the lemons in any case, so whatever you make of it has got to be healthy!
More about the extended family
Karthik and I have a dog called Kapalee, and we just adopted (not bought) a Labrador (tentatively named Ramasubbi)—the four of us live together.
My sister Sunitha lives in New Zealand but stays with us whenever she's on a break. We're very tight with my in-laws and spend a lot of time at theirs. 
Best friend - Simbu
Of course he is one of the few friends who have stood the test of time, I must say, like my associations with Venkat Prabhu, Vamshi Paidipally and Venket (photographer). Singer/Composer Ranjith and I go a long way back too and we're terribly close. 
I did have a friend in the industry, an actor, who always watched out for me, and I had a great deal of love and respect for (and still do). I screwed that one up, my bad. I do hope I get the chance to remedy that one day. Not to be screamingly glorious friends again, but at least so we can think of each other fondly once in a while. 
Meeting the maestro - AR Rahman
I met him at a common friend's place the first time, when I went to record for him for the Telugu film Puli, the second. Both times he's struck me as a person very easy in his skin and at peace with himself and the world. 
Career wise
The activities I choose to do or spend time on are not necessarily linked to income or success. I do whatever makes me happy. 
I've been doing a fair bit of song writing (composing & lyrics). My association with singer Ranjith has extended to our second single, Elumiccham Pazham - a fun, flirty song with folk overtones that we released on Dec 31.

The response we've been getting for this is a bit overwhelming. The video crossed 40,000 views within a day of release on Facebook - with no marketing or promotion, instead, just a word of mouth.
We were blown when Sun TV asked us to perform a medley of our independent singles at the finale of their top rated reality show.
A mass-appeal TV channel wanting to showcase independent music? Things are changing! 
A solo album called Free Lunch is also in the works. I'm going to release this on my own on Soundcloud, Bandcamp etc.
It would comprise simple songs about everyday trivialities, and more, and I'm collaborating with musician-friends of mine on the production. I am primarily a songwriter so these songs would be less fancy production, and more pure song writing.
I've resumed writing, I've also been cooking, experimentally, and I find great joy in that.
Wish list for work
Composers I've worked with from the beginning of my career - DSP, Mani Sharma, Vidyasagar, Yuvan, Vijay Antony - there has been so much respect, professionalism and fabulous vibes during the working process. The new smart kids I've worked with, Anirudh or Kuralarasan, the vibe has been chilled-out, relaxed, and great fun.
They're a sorted, straight, easy bunch. I love the way they make their choices and decisions. My all-time favourite person I've worked with, though, is and always will be Thaman. We share a bond that goes beyond composer-singer. 
I'd like to work more with Anirudh. His music is fun and fresh. Bijibal (Malayalam), Sean Roldan, Pradeep, Ghibran - would be great fun working with them too. And of course, I'd be lying if I said Santosh Narayanan isn't right on top on my wish list.
Issues in the music industry which needs to be addressed
Well, much has been said about actors and composers turning singers, not to jeopardise my own bread-and-butter, but I absolutely love this. 
It has always been difficult for me to digest a scratchy-voiced hero singing alarmingly perfect runs (thanks to a playback singer) when it comes to his songs. 
Some songs are meant to communicate and not be so much a showcase of the singer's vocal histrionics. Therefore when the actor sings his own songs, it makes it all the more real and relatable. 
I feel a composer knows, more than anyone, the depth of emotion that's gone into the creation of a song, and therefore when he sings, it touches a chord. It is rare that a singer, who walks in right at the end, can nail that aspect of the song in an hour or two. I'm sure he/she can 'deliver' technically, but soul? That's a toughie. 
Dubbing for artistes
I love dubbing. It is acting, with your voice.
Sometimes we literally carve and craft dialogues to suit the lip movement of the actor on screen, while conveying what the character needs to say - it feels like nailing the next level on a video game. I've enjoyed working with Parthiepan while dubbing for the female lead in Kadhai, Thiraikadhai, Vasanam, Iyakkam. He was super witty, full of good energy and very respectful toward me.
Proactive? Vociferous? Nah, voicing your opinions on the social networking platform
Extreme jingoism/nationalism bothers me hugely. It's a brilliant display of double standards. You could be a wife-beating, racist wino, but if you stand up for the national anthem and claim to 'love your country'; you will be applauded and called a patriot.
Anything anyone does or says gets slotted into 'patriot' or 'traitor' brackets. Social media has also made reacting to anything that much easier, quicker and annoyingly rewarding.
Everyone is sensitive to everything so the whole value platform is a big pseudo passionate blur of 'likes', 'shares' and 'retweets'.
I support 100 percent the rights of the students who spoke at JNU.
But having said this, Chennai would not have bounced back the way it did after the floods, if it wasn't for social media. My husband and I ran a relief hub for a week at the Evam office and it was that little bit of WiFi and social media that connected us to the food and essentials - both supply and demand - and helped us help lakhs of people. Twitter and Facebook literally saved many lives. 
I am also quite passionate about animals (all kinds, including reptiles), and though I don't push anyone to turn vegetarian, I do hope my Facebook posts of exciting vegetarian food warms at least some of my friends to the idea!
Last Updated Mar 31, 2018, 6:35 PM IST