Bengaluru: Dead fish fill Ulsoor lake amid blame game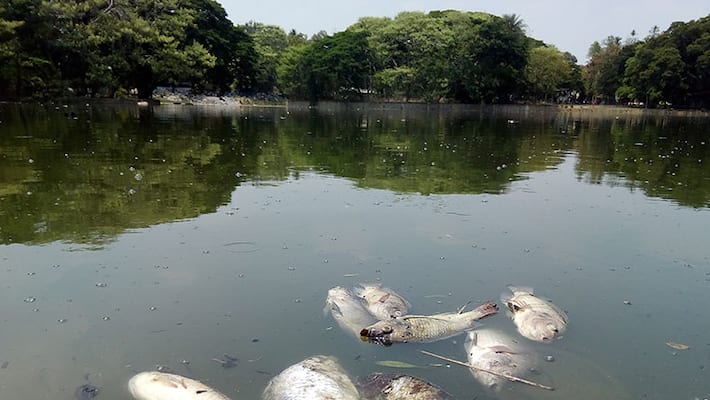 In less than two months, yet another mass fish death was reported in Ulsoor Lake, Bengaluru and authorities appear to have done little to contain the inflow of sewage into the lake. Sewage inflow, which causes a drastic drop in dissolved oxygen levels in the lake, is the primary reason for the death of the fishes. 
Officials from the Central Pollution Control Board collected water samples from the Ulsoor lake today after mass fish deaths were seen on Monday. G Tirumurthy, Senior Environmental Engineer, Central Pollution Control Board, inspected the lake and collected the water samples. 
"There is no doubt that the water is polluted as the Dissolved Oxygen level in the lake has crashed due to garbage and sewage inflow. State authorities have already initiated steps and constructed a retaining wall to arrest the spread of floating materials into the lake. We will do periodical checkups send the reports to the Ministry of Environment and Ecology," he said, adding that it was up the state government to ensure all lakes were protected.
"The authorities are just playing a blame game. For example, the Bruhat Bengaluru Mahanagara Palike is accusing the Fisheries Department and the Bengaluru Water Supply and Sewage Board for the mass fish death. However, the important issue is the clearing of garbage after the heavy rains. If the BBMP had cleared trash and stopped the inflow of sewage, the mass fish death could have been prevented," said Vijay Nishanth, Urban Conservationist.
Hema H, a resident from Ulsoor who noticed the mass fish death, opined that the public was also equally responsible as they continued to dump garbage into storm water drains that eventually empty into the lake. 
"Every time it rains, garbage gets into the lake. The BBMP should depute a guard near the storm water drain that connects to the lake, as this will prevent people from throwing waste into the drain," she said.
"We could not walk as there (the Ulsoor lake) was a nasty smell was emanating from the lake. This is unsurprising, as the smell was coming from all the dead fish that were floating along with the garbage and sewage," said Ravi, a Bharathi Nagar Resident.
Venkatesh, Assistant Executive Engineer of BBMP, claimed that the BBMP was only responsible for the maintenance of the lake and he pleaded helplessness in controlling sewage inflow into the lake.
"The Fisheries department has to check the lake status as this lake only has a capacity for about 80,000 fish. But, perhaps due to his commercial interests, the contractor has seeded more than a lakh fish into the lake. This is another reason for the depletion of oxygen levels in the lake," stressed Venkatesh.
Deputy Director Fisheries, Veeranna Gowda and Chief Engineer for waste water management, Ramakrishna were not available for comment.
Last Updated Mar 31, 2018, 6:47 PM IST