Bengaluru Transgenders stage protest against TV channel
Protesters alleged a private channel aired programme "Operation Anandi", showing them in bad light
Community members said they were being ostracised, asked to vacate house, forced to leave jobs
Akkai Padmashal from Ondede said, they will consider taking legal action against the channel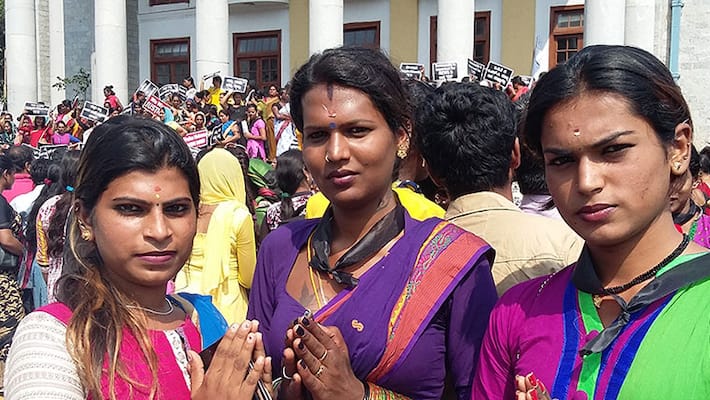 The protesting members alleged that the private channel aired programme "Operation Anandi", showing them in bad light on 25 September.
The channel's contention was that, the community was taking young boys into their fold by castrating them. This lead to arrest of six persons on charges of abduction, wrongful confinement, grievous hurt and even attempt to murder. The eunuchs were sent to judicial custody.
Following the telecast, the community members said that they were being ostracised, house owners are asking them to vacate and their jobs were at stake.
Meanwhile, Rihana, a transgender said that the programme aired was about her and the channel wrongly claimed that she was brainwashed and castrated.
"I am 21-year-old and no one brainwashed me. The castration was done with my consent.  I was doing my diploma from a reputed college and after the programme was aired, now everyone is questioning my identity. Even my house owner has asked me to vacate. There were two more trans-women with me who are facing the wrath. The channel has gone by one single trans-woman Anandi's version and aired the story. They did not contact me before airing story. They should apologise,"  she said.
Franky, another trans-woman who worked as a beautician at a mall is also facing similar problems. "I have been asked to look for a different job," said Franky. 
Vinay Srinivasa, member of Alternate Law Forum said: "These days the channels only care about Television Rating Points (TRPs). Post the channels news, many transgender community members are facing rejection in society. 
The transgender community members and many activists associated with Karnataka Transgender Samithi, Karnataka Sexual Minorities Forum, Jeeva, Payana, Samara, Swatantra, Sarathya, Mangalamukhi Sanghatane and Ondede took out a rally from City Railway Station.
Akkai Padmashal from Ondede said the community members are hurt and will consider taking legal action against projecting transgender in bad light.

However one of the representatives defended the channel's sting operation and said, "A mother had come in search of her son with photographs. Based on the evidences, a sting operation was conducted. The accused persons have divulged the details of how they conducted the castration."
Last Updated Mar 31, 2022, 5:09 PM IST