Bengaluru: Teen music prodigy beats autism to make a mark
Aditya Venkatesh is a teen music prodigy.
Despite his autism, Aditya with the help music has been able to excel even in sports.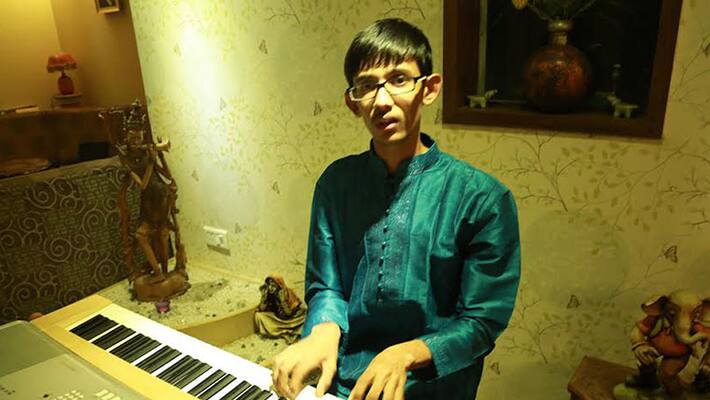 Aditya Venkatesh, a 16-year-old autistic boy is blessed with enhanced musical talent unseen in many normal children of his age.
The teen prodigy possesses the unique potential to play 80 songs without having a look at the musical notes. It was Aditya's mother, Vidya Venkatesh, who discovered his ability to easily grasp music and later encouraged him to learn Classical Carnatic music at the age of six.  Aditya was later also trained in western classical.
Instead of losing hope or getting disheartened, Aditya's mother took care of his studies and gave extra attention to his interests in music. 
During his early days, he was trained by vidwan Tirumale Srinivas  and currently he is being trained by renowned harmonist, vidwan Ramdas.
"Aditya was diagnosed for developmental delay broadly termed under the medical term "Autism" when he was 3 years  old. However, what was stark even when he was just 3 months old was his acute sense for music - we remember that he used to listen to Carnatic Music for hours together. Today he has evolved interests into various other forms of music and has a huge collection of Music CDs, which he still listens to unhindered and with utter joy," said Vidya.
Aditya has given various performances both solo and in group. Over the last 3 years, he has even given two hour long performances in weddings and at temples, Vidya added.
Being a gifted child, Aditya could learn music with ease. He could effectively remember the song compositions like Arohanam and Avarohanam.
"He does not read or write or follow notes of any song. He just plays by hearing and memorises all the songs taught to him by the master. He practises for hours every day without fail. For the last few years, he has been trying to learn Manodharma Sangeetham, which has been quite challenging for him,"said Vidya.  
Music has helped Aditya to heal himself from various issues and has also helped him to gain a lot of acceptance from his peer. This apart, Aditya also has excelled in sports like Badminton, Tennis, Swimming and Skating where he has won many trophies.
"I do many things but I love music and want to become a great musician," says Aditya.
Last Updated Mar 31, 2018, 6:34 PM IST