Bengaluru steel flyover to fund UP elections?
Despite opposition from public, Karnataka government is going ahead with the steel flyover project.
₹1,800 crore allegedly is meant for funding the Congress for the UP elections.
Amid increasing protests in the IT capital against the construction of the proposed steel bridge, allegations are doing the round that the Karnataka Congress government desperately wants to push for the project as the money from it would be used for funding the Uttar Pradesh elections.
Karnataka government wants to construct a steel flyover in Bengaluru, covering a distance of 6.7 km from Nagawara to Hebbal Flyover at a cost of ₹1,800 crore. Leaders of various parties and people have expressed their opposition as they are concerned it will negatively impact the city. 
Various organisations have cried foul and said the government was trying to ignore the environmental issues and is on its way to make as much money as possible from this project.
Union Minister for Statistics, Sadananda Gowda, who is also the former chief minister of Karnataka an interview to the Economic Times alleged that the Siddaramaiah government is in a hurry to get the project, despite protests as it needs this money for the UP elections.
Expressing a similar view, historian Ramachandra Guha said that this project is not only unscientific but also unethical. "Congress is going ahead with this project with a hope that it may help them to win the next election. Since it is a last chance for them, they are implementing  the project in a hurry to make money," Guha said.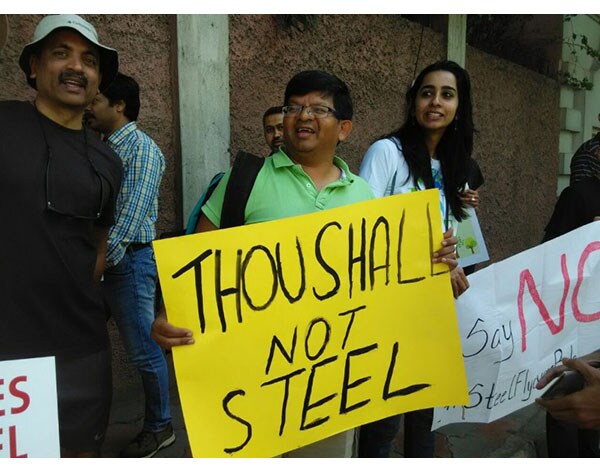 "Politicians always prefer huge projects that demand huge amount of money, so they will get a massive share in the total sum. The steel flyover project is profitable for our politicians. This problem has been around from the time of Jawaharlal Nehru. But he was self-critical and had said such an outlook will not lead India to a good place," he added.
Speaking about how people are opposed to the project, activist Prakash Belawadi said, "Organisations that are protesting against the steel flyover did conduct a referendum. Of the 41,818 people took part in the referendum, 41,534 voted against the construction of flyover. We will submit this referendum to the court. We've got the addresses of each voter that said no to the steel flyover," he said.
 
 
Last Updated Mar 31, 2018, 6:59 PM IST