Bengaluru Samaritan brings IT meals to slums
Venkatraman Iyer discovered a large wastage of food.
He immediately arranged for the food to be delivered to slum dwellers instead.
Once a day, high quality now go to the hungry, widowed and poor.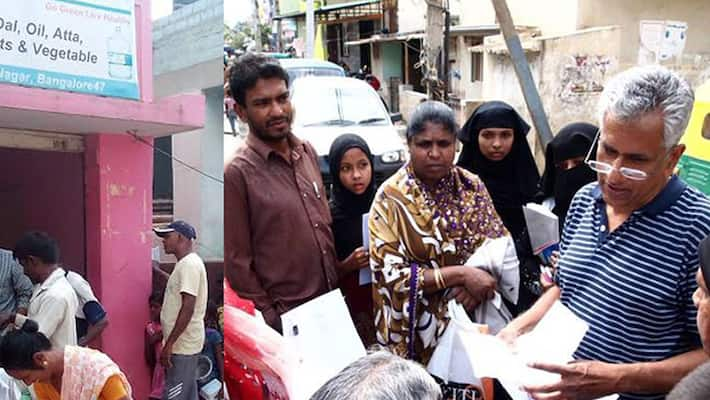 At a time when surplus food in Bengaluru usually goes into dustbins, a good Samaritan in Koramangala tied up with a software company that reportedly used to dump enough food to feed about 500 people. Now, over the last month, dwellers in Rajendranagar slum in Koramangala are being provided high-quality executive lunches. 

The software firm employees and an NGO supply the food every day between 3 to 5 pm. 

Venkatraman Iyer, who is the founder of 'Swabhimaan', an NGO which works for the welfare of slum dwellers in Koramangala, was informed of the dilemma of excess food by a software firm last September. 

Iyer, who has been assisting through a few educative health care programmes at Rajendranagara slum and Laxman Rao Nagar in Koramangala, decided to channelize this surplus food. He, along with like-minded friends, approached the firm and convinced them to supply the excess food to the NGO instead.

"We took the administration into confidence. With over 1,100 employees, the company was struggling with high-quality excess food. The food of over 400-plus members, provided by the firm free-of-cost, was going waste. To avoid food being wasted and also to feed hungry stomachs, a list was prepared, and deserving 500 dwellers were provided with identity cards. Every day, the beneficiaries show the card and collect their share of food."

Ravi Iyer, an employee of the firm, says, "This is a commendable job by 'Swabhimaan' and team. Even other employees volunteer in the distribution work sometimes. Government has failed to provide proper slum homes and also proper rehabilitation and people like Venkat are the hope for such downtrodden," 

Dwellers speak:
Shaeen Taj, the mother of six children and a widow, says being a housemaid she was unable to give three square meals for all. But over the past one-and-a-half month, all the children can get good food. 

"I take few containers and bring food from the distribution point.  All my children eat and take an equal share. I had tears in my eyes by seeing my kids feasting on good food which I cannot earn and give,"

Abhirami, who lives in a dilapidated building with her three children, says."There is no proper shelter, and I cannot feed my children with quality food as I am a housemaid and take up other menial jobs. I was worried about my kids going hungry, but with support from Iyer sir, we take food from the camp and also eat the same in the night."

'Swabhimaan' is an NGO working in the slums of Rajendranagara, opposite National Games Village in Koramangala. The NGO is in the process of approaching more such organisations to scale up this exercise. There are about 50 such slums that need similar support. The mission of the trust is to make Bengaluru 'Hunger-free'. 
Swabhimaan can be contacted at 9945436757.
Last Updated Mar 31, 2018, 6:44 PM IST