Bengaluru garment factory workers protest new PF norm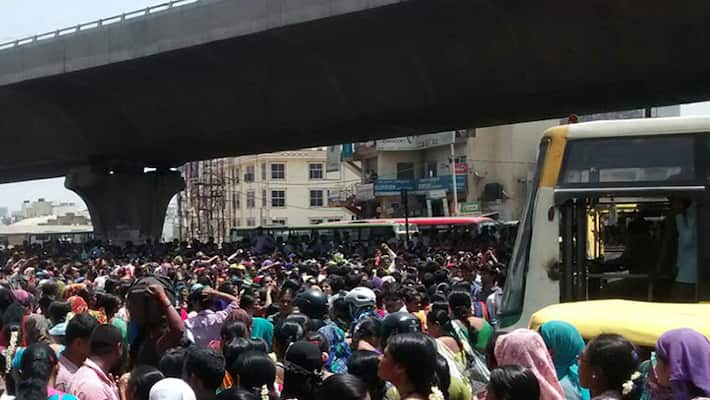 Bengaluru: At least 10,000 garment factory workers blocked the entire Hosur road stretch near Bommanahalli and Maddur for several hours today to protest against the central government's new legislation that limits provident fund withdrawal. 
The flash protest that began post 9.30 am on Monday, went on for several hours. The police later resorted to lathi charges and shot tear gas into the air after protesters damaged three police vehicles.
At least eight people were injured by stone pelting protesters, including several police officers.
The police, reportedly, have arrested several protesters.
The massive protest caused a major logjam that crippled traffic movement towards Electronics City and surrounding areas for over three hours. Traffic police had a hard time trying to make way for ambulances.
On the Maddur road stretch, the protesters blocked the traffic towards Mysuru.
It is still unclear why the protest broke out today as the government's decision on PF was announced in February.
The garment workers are demanding that the central government roll back the new norms as it does not allow an employee to withdraw the full amount from their provident fund accounts till one turns 58.
From 1 May, people will be able to withdraw only their contribution and the interest accrued on it, but not the employers' contribution.
Several injured in clash between Police and garment factory workers in Bengaluru pic.twitter.com/pM11xg0y9g

— ANI (@ANI_news) April 18, 2016
Last Updated Mar 31, 2018, 6:49 PM IST