Villagers threaten to dump waste outside Vidhana Soudha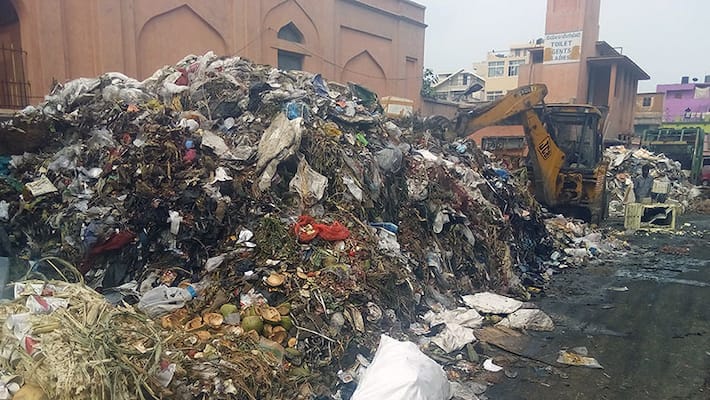 The villagers of Kannahalli and Seegehalli (located 35 km from Bengaluru) have given the city corporation a 20 day ultimatum to clear the waste being dumped in their villages; else they have threatened that they will march to Vidhana Soudha and dump the filth outside.
Every day about 500 tonnes of municipal solid waste  is sent to Kannahalli and 150 tonnes is sent to Seegehalli. Though Bruhat Bengaluru Mahanagara Palike (BBMP) claimed that it is sending only green and segregated waste to these villages, the villagers say it is untrue.
"Our nose and lungs suffer, due to the lack of apathy from Bengaluru Mayor, Bengaluru City Corporation Commissioner who are using police force to dump waste in our village. On the pretext of  our village development programme they are dumping their hazardous and smelly waste," said Mohan Raj Secretary, Kannahallai Seegahalli Kasa Velavari Horata Samithi.
"We want this plant to shut if they cannot stop this bad smell . Due to this garbage pile there is rise in vector borne disease cases in village as well," Raj added.
He said the officials and Mayor had met the villagers with police protection when one of our villager raised her voice against this injustice, she was taken into police van by women police and let off with warning.
He further added that, they villagers will take the padayathra from their village to Vidhana Soudha and BBMP head office by carrying the City's filth and will dump the same in Bengaluru to protest against this atrocities by officials and elected members of City Corporation.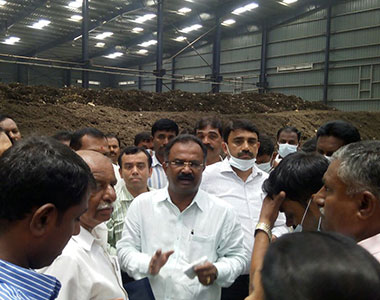 BBMP Commissioner G Kumar Naik but has expressed hope that they will be able to find a solution to the standoff. "The dialogue is on and we had taken them to Karnataka Compost Development Corporation (KCDC)  unit four days ago.  We will win over them and everything will be solved ," Naik said.
Special Commissioner for Solid Waste Management, Subodh Yadav said that BBMP is concerned only with clearing municipal solid waste and it is doing that. However, when asked about the ongoing tussle with the villagers of Kannahalli and Seegehalli , he quickly got into his car and left the spot.
A similar issue now has cropped up in Mavallipura in Yelhanka near the International Airport, where the villagers now are demanding BBMP to allocate more funds and only then they would allow the municipality to setup its processing plant.
With ongoing protest by villagers in Bengaluru outskirts for dumping municipal solid waste and with holidays following Ugadi festival, most of areas in Bengaluru is filled with Municipal solid waste.               
The worst hit areas are KR Market Ward, Krishnaraj Puram, Shanthinagar Shivajinagar. The garbage pile from the collection point remains uncleared.                   
Traders at City Market where about 15 tonnes of waste is piled up say that, despite complaints to ward engineers the scene has not changed and traders are left to suffer.
Last Updated Mar 31, 2018, 6:47 PM IST