Bengaluru cops unlikely to get custody of ATM attacker for now
Madhukar Reddy, the alleged ATM attacker of Bengaluru will remain with Andhra Pradesh police for now.
He has several cases filed against him in AP, and until those are resolved he will not be sent to Bengaluru.
Bengaluru Police are now trying all possible solution to bring the attacker under their custody.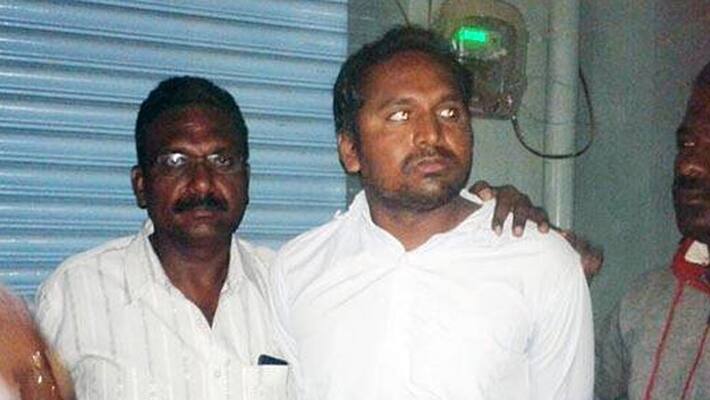 Three years after the brutal attack on a lady in a Corporation Bank ATM in Bengaluru, police have finally arrested Madhukar Reddy. Reddy, as was captured on a CCTV footage, horrifically attacked the woman with a machete, slashing the victim repeatedly. He was caught by the Andhra Pradesh cops, mostly thanks to some routine police checking, and not through any specific manhunt. 
Read: Bengaluru ATM attacker allegedly caught after 3 years
However, Bengaluru cops are not likely to get Madhukar Reddy for now as many more investigations are going on against him in Andhra Pradesh. Since Madhukar Reddy is in Andhra Pradesh police custody, he'll be handed over to Bengaluru police after the completion of their investigations into all the cases that have been filed against him.
There are already four cases against Madhukar Reddy in Andhra Pradesh, out of which two are murder cases. Srinivas Ghatameni, SP of Chittor district, said that they will release the accused after the completion of investigation of all the four cases that are filed against him.
Hence the investigation into the ATM attack will probably be delayed for a long time now. Besides, Bengaluru police have already submitted a 'C' report to the court and they need to take permission from the court in order to reopen the case.
For now, Bengaluru police are trying every possible way to complete the investigation of this case. The police are likely to file an appeal at the 6th Additional Chief Metropolitan Magistrate (ACMM) court on Monday, February 6, in this regard. The police are supposed to convince the court that the arrested accused is indeed the man who made the attack in the ATM. Bengaluru police have already obtained a report from the Chittur Police about the arrest of Madhukar Reddy and are going to enclose the report along with the appeal.
"We have submitted C report to the court with regard to ATM attack case of November 2013. ACP of Halasuru subdivision is going to submit an appeal to the court on Monday requesting to allow us to reopen the case. It may take at least 2 weeks for us to take him into our custody" – Praveen Sood, City Police Commissioner.

 
Madanapalli local court has placed Madhukar Reddy in judicial custody for fifteen days.
Last Updated Mar 31, 2018, 6:57 PM IST