Bengaluru burns after swallowing hundreds of lakes
November in Bengaluru is traditionally cold.
This year has been the hottest this month has ever registered.
The vanishing of hundreds of lakes is the leading cause for this.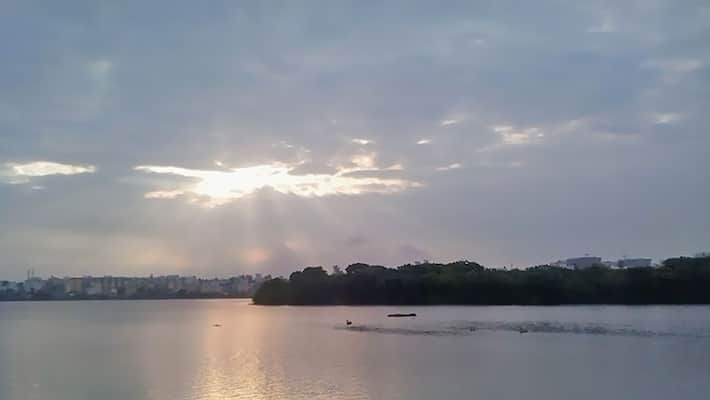 The month of November was considered as the start of the 'cold season'. However, this year it has surprisingly witnessed an all-time high in temperatures for the month. 
Indian Meteorological (IMD) officials confirmed to Asianet Newsable that from a usual maximum of 28 degrees celcius for this month, temperatures had seen a jump to 32 degrees on average - which is all time high. 
IMD officials say this rise is due to the uncontrolled increase in urbanisation, at the cost of trees. Adding to the views of the IMD, experts from the Indian Institute of Science (IISE) say in their study they discovered that more than 100+ lakes from the city had been converted into a concrete jungle, hence temperatures are on the rise. 
Sunder Metri, Director Indian Meteorological Department, said, earlier the city temperature was between 25 degrees to 28 degrees maximum during the November season. But after the sudden growth of the city due to the IT sector and real estate boom from 2000, Bengaluru is becoming hotter even during winter.  
"In 2007, the city temperature had touched 31.7 degrees and recently on November 23 this year; Bengaluru recorded 31.9 degrees which are all time high. The increase in traffic, reduction of green cover and vanishing of lakes is the prime reason for such a change in climate," he said.
According to a government report, based on the 1965 reclassification of land by the revenue department, there were 835 lakes in Bengaluru's districts. The area under the BBMP alone had over 300 lakes. Now there are only 121 lakes in the city. The Majestic bus stand, Koramangala, CV Raman Nagar and plenty of other posh locations were lakes later converted into sites.
Ram Prasad, member, 'Friends of Lake' said, "If these lakes had been preserved, the temperature would not have become hotter."
He also added that at present only 81 lakes were 'alive' and remaining have to be rejuvenated. 
Last Updated Mar 31, 2018, 7:03 PM IST