Bengaluru startup recycles 18,000 tonnes of e-waste annually
BinBag, an e-waste recycling startup, is helping Bengaluru address its waste issues.
The startup now has 4,000 customers across the city.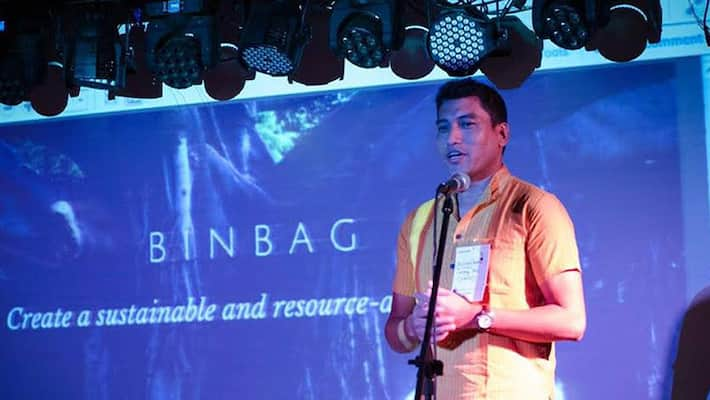 At a time when Bengaluru city municipal corporation is still finding it difficult to manage the solid waste and electronic waste, in particular, a City-based startup has taken up itself to recycle 18,000 tonnes of e-waste annually.
BinBag, an e-waste recycling startup, run by an entrepreneur from Assam is helping Bengaluru address its waste problem.
Started in 2014 with just one customer, Achitra Borgohain an MBA graduate from Gujrat University, has now 4,000 customers across the city and manages about 18,000 tonnes of e-waste annually.
The BinBag founder, who is in his 30s, said that he got the idea after he found it difficult to dispose of few of his electronic junks. " No recyclers' would come to pick the smaller quantity of electronic scraps and there were no drop-off points as such. Since there were no better options the idea of Binbag was born," he said and added that his project was incubated at IIM-B.
Explaining further on the Binbag concept he said, Binbag picks household e-waste from people's doorstep and sent it to authorised recyclers.  BinBag works with certified recyclers. In order to facilitate the E-waste disposal.
Customers are encouraged to send pick-up request on 9663943939  or even email or walk-in into partner outlets to drop their e-waste or can even log onto www.bigbag.in for more details of service.
From June this year, the firm has started a subscription-based service for all recyclables for independent homes and small businesses and apartment societies, micro enterprises.
"We have launched our subscription based service in limited areas of Bengaluru in Jayanagar, JP Nagar, BTM and Koramangala and many other areas. Based on the response, we will slowly expand to cover the entire City. My dream is to reach a target of ten tonnes every month," he said.
The firm aims to build a team, and plan to place bins across various outlets in Bangalore so that people can dispose their e-waste separately. .
Sarfaraz Khan, BBMP Solid Waste Management Joint Commissioner lauded the efforts and said such initiative by startups and entrepreneurs will reduce the burden on BBMP as waste gets segregated at source . 
Last Updated Mar 31, 2018, 7:02 PM IST