Bellandur: Under-construction building collapses, three killed
The death toll in Building collapse in Bellandur raises to three, two more trapped under the debris
Primary investigation has found that substandard work is the reason for the collapse
Two officers of have been suspended in this regard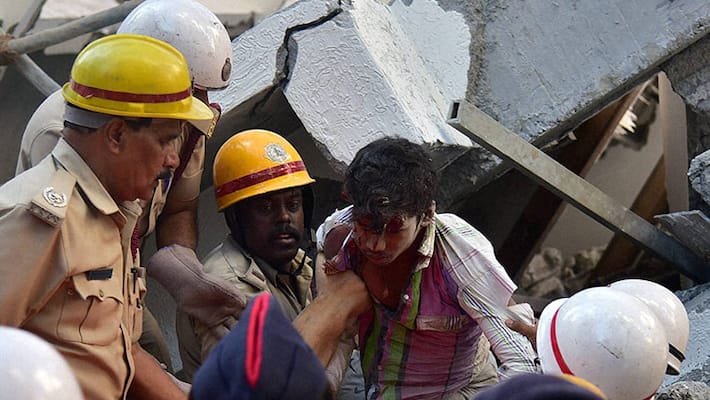 The Fire department found the body of the third victim of the incident, a while ago. One of the victims was a security guard Ashok, 40, of Odisha, working at the Veena Apartment situated in front of the fatal building which collapsed. The identity of the other two victims has not been found.
The primary investigation has shown that substandard work is the reason for the collapse. The BBMP has suspended two officers for being careless while giving permission for the building.
Three ambulances are at the spot and more than 50 personnel are conducting the rescue operation.
So far seven people have been being taken out of the debris and are given first aid and are being treated at Sakra Hospital in Bengaluru. The fire extinguishing team is still on the duty to remove the injured from under the collapsed building.
Legislative Council member speaking to TV 9 said that Raghu Achar has said that the building was being constructed illegally. The owner had the permission for constructing a two-storey building but has built two floors illegally.
According to the sources, the building was being constructed to be given out for paying guest (PG) purpose. The construction was in the final stage and today only the painters were at work.
Additional Police Commissioner P Harishekharan is inspected the spot. Mayor Padmavathi also took stock of the situation.
"A notice was served to the building owner to stop work in May citing substandard work. But the work was continued despite it. Sanction was granted to construct ground, first and second floor. But one floor has been constructed with TDR upload. As of now it looks like substandard work has caused the collapse. If there is anything done illegally, we will take strict action," said Mayor Padmavathi.
Muniveerappa, BBMP Joint Commissioner of Mahadevapura Zone said that permission taken to build residential apartment belonging to Vinaykumar Dongalu. As per the primary investigation it looks like substandard work is responsible for the collapse. 
Last Updated Mar 31, 2018, 6:41 PM IST