Belagavi's winter session: is it a season for fake bills?
During the annual Karnataka Legislative Assembly at Suvarna Soudha, 300 portable toilets were installed with a charge of Rs 1000 per day for 10 days. The bill raised for the same by government officials is Rs. 1.29 crore.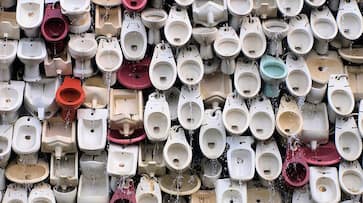 Belagavi: Since 2006, the annual 10-day winter session of the Karnataka Legislative Assembly has been conducted in Suvarna Soudha in Belagavi.
Last year, 300 portable toilets were set up for the police and other officials in Belagavi. The charge for one toilet for a day was Rs. 1000. However, a bill of Rs. 1,28,85,600 was raised by government officials.
According to Bangalore Mirror, the owner of 3d Environmental Services, Diwakar Pimpalkar said, "Last year, I supplied 150 portable toilets for 10 days in November. I collected Rs 1,000 per toilet per day (including transportation). Another contractor supplied 150 of them." At the time the session was conducted from November 13 to 24. According to the amount stated by Pimpalkar, the actual figure for the rental would come up to Rs. 30 lakhs. The government officials however, submitted two bills of Rs. 69,38,400 and Rs. 59,47,200.
This isn't the only bill that has raised a concern, bills presented for snacks and beverages is 2,63,60,800 and Rs. 4,32,17,736 for a pandal, Rs 22,07,898 for the banquet hall and Rs 1,26,54,320 for a pandal for journalists, senior officials and marshals as per the Bangalore Mirror reports.
When asked about the bills, former speaker K B Koliwad said, "The Commissioner of Police, Belagavi, was responsible for providing the amenities including security during the Session."
"We have to stand up and protest against corruption. You submit the documents to Lokayukta for a probe into this matter," said former Lokayukta Justice N Santosh Hegde who was appalled to hear the figures raised by the ministers.
RTI activist from Belagavi, Bheemappa Gundappa Gadad said that the 10-day legislative session is a boon for some officials as It helps them to pocket money by preparing fake bills.
Last Updated Dec 7, 2018, 6:34 PM IST