Manduru farmers can no more cultivate on their lands, thanks to BBMP!
BBMP promised development and took about 135 acres land for setting up a waste processing unit in 2007.
The BBMP's failure to monitor the functioning of the unit.
The crop cultivation has fallen by 70% in this village.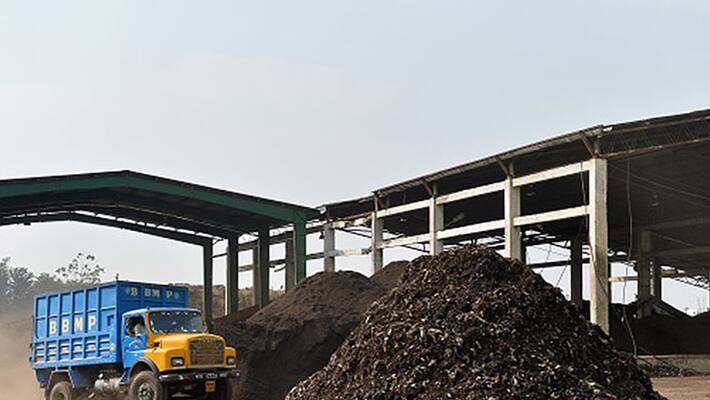 Manduru, a village with hardly 25,000 population in Bengaluru's outskirts was self-sufficient due to vegetables and mango cultivation. But, its fortune reversed after BBMP took over about 135 acres land here for setting up a waste processing unit in 2007. 
The villagers who agreed to allow the dumping after BBMP promised development are regretting now as their land has lost fertility and has turned poisonous due to all the waste dumped here.
The BBMP's failure to monitor the functioning of the unit has resulted in the release of leachate into groundwater, and the pile of waste has become a source for black flies that thrive on it.
"The flies destroyed our crops and the seeping of black water coming from over 20 lakh tonnes of waste dumped here. We sympathised with  BBMP and allowed to dump their waste, thinking they will process and also develop the village, but the system failed to deliver on its promise, and as a result, we cannot cultivate on our lands," said Gopal Rao, Manduru Gram Panchayat Member.
Like Gopal Rao, Thirumallesh who has about five acres of lands says, his family was never dependent on any market for the supply of vegetables, but now, he cannot even cultivate in half acres of that land. "The crop cultivation has fallen by 70%. This is purely because of BBMP's negligence. Had they run the unit properly we would not have witnessed the loss," he said.
The land at Manduru was mainly used for growing mangoes is now destroyed by BBMP's negligence. 
"The black water that is seeping into the ground is dangerous as it will have zero percent of organic matter and will have poisonous contents. The farmers who are dependent on ground water cannot use this water during January and February which is the flowering season. This apart, the black flies coming from the garbage will spoil the flowers. The trees will not bear fruits," said Raje Gowda, Registrar, University of Agriculture Science, Bengaluru.
Lashing at the BBMP's attitude of not cracking on contractors who were supposed to run the processing unit, Yellappa Reddy, Environmentalist said, BBMP should be made a first party for causing an ecological disaster. "No environment assessment were made before starting the unit. The contractor just took money from BBMP and has vanished into thin air. The villagers are suffering now," he said.
He further added, that, as the groundwater is polluted, it can cause life-threatening disease among children here.
Bengaluru Mayor, G Padmavathi who is aware of the situation said she would visit Manduru and ensure that a methane gas plant is put to tap the energy.
"Tenders have been called to set up a methane gas plant. The village will be developed. The BBMP which had used the land in Manduru will make sure the lost fertility is restored back. A team of officials from agriculture department will also be consulted, and a field study will be conducted to draw an action plan. As of now, the BBMP has stopped dumping of waste and has deputed concerned engineers to have a health check-up and provide water through tankers to the villagers," she said.
Last Updated Mar 31, 2018, 6:44 PM IST