Why this Instagram post of Bahrain Foreign Minister is going viral!
Sheikh Khalid bin Ahmed Al Khalifa posted a picture with Layla.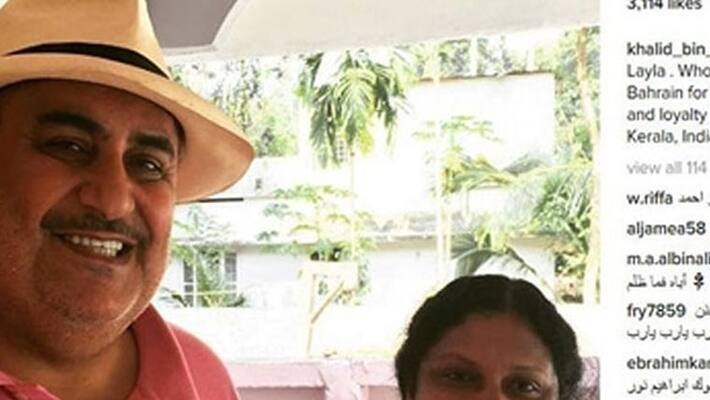 Layla, a homemaker in Kollam had a surprise visitor on Saturday- Sheikh Khalid bin Ahmed Al Khalifa, the External Affairs Minister of Bahrain!
He was her employer in Bahrain for over 21 years where Layla worked as his housemaid. Later she bid farewell to her expatriate life and settled in Kollam.
When Sheikh Khalid bin Ahmed Al Khalifa, a senior member of the Bahrain Royal family, paid the surprise visit, she was more than happy to play host to her former boss. She served a traditional Kerala Sadya (feast) in banana leaf and the minister enjoyed it with Layla's family.  
The minister also posted a photo of the visit on Instagram.  
"Today we visited Layla, who shared her life with us in Bahrain for 21 years with love , honesty and loyalty,"he wrote.

The noble gesture of the minister to take a break from his busy schedule and visit his former housemaid was well received by netizens and the photograph is going viral.  
Interestingly, language was no barrier for Malayalees to appreciate the Bahrain Foreign minister. "Kalakki Bro!," (That's Great, brother!) they wrote in Malayalam below the Instagram post
Last Updated Mar 31, 2018, 6:43 PM IST