Baadal's 'swimming pool' adorns another pothole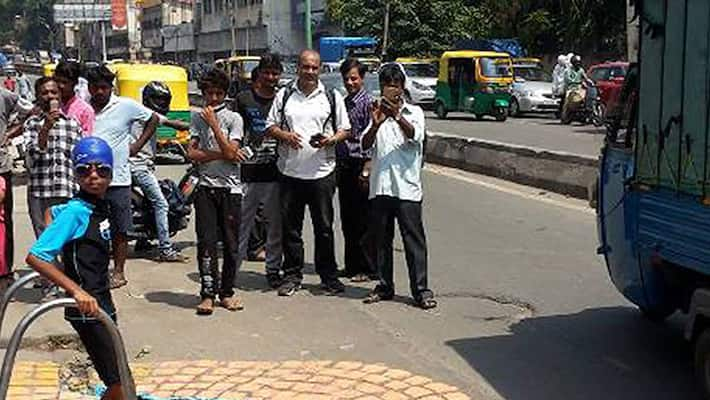 His latest creation - a 3D swimming pool on Mission Road in Bengaluru is making the rounds, raising the usual fierce buzz.
Baadal is an alumnus of Chamarajendra Academy of Visual Arts, popularly known as CAVA. Street art and 3D paintings are his specialities. His workspace is mainly based in the cities of Bengaluru and Mysuru.
An introvert, Baadal has created a niche for himself through his impressive works, rather than through networking or public appearances. His paintings on roads with potholes have been far more effective in getting roads repaired than repeated pleas to the authorities.
Among his earlier works were a large crocodile on a giant pothole in Sulthanpalya, Bengaluru in June 2015 and the god of death, Yama's face on an open manhole in RT Nagar in June 2014.
Apart from civic issues, Baadal also creates interesting installations, sculptures and murals during various occasions like Christmas, Deepavali, Sankranthi etc. He always has a cause attached to his works and most times, he is successful in proving his point.
Last Updated Mar 31, 2018, 6:50 PM IST