Auto driver offers free ride to banks in support of currency ban
Sadiq, autorickshaw driver from Dakshina Kannada district, is offering free ride to banks
He says he is Narendra Modi's fan and wants to do his bit to make Modi's initiative successful
However, he claims that he has not seen the new ₹2000 currency note yet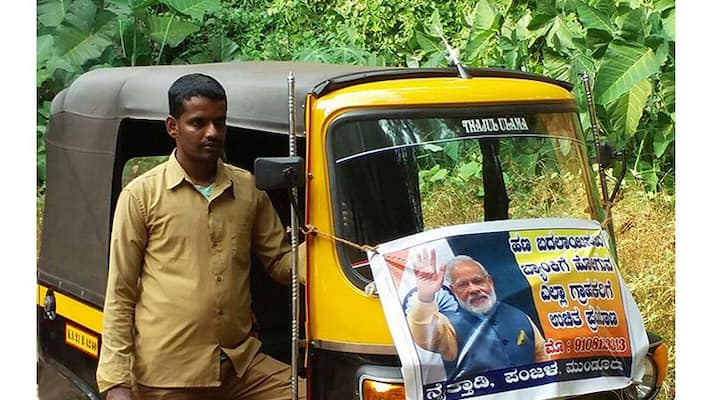 Many common people have come out in support of Prime Minister Narendra Modi's initiative to curb black money.
One among them is Sadiq, autorickshaw driver, gives a free ride to people going to banks for currency exchange, in support of Modi's initiative.
Sadiq drives auto from past six years. He travels around Munduru, Naithadi, Panjala and other villages of Putturu Taluk in Dakshina Kannada district. He has tied a banner to his auto stating "Free ride for those going to bank".
"I'm a fan of Modi. I am extending my support to his good works by giving a free ride to people going to banks. I know what Modi is doing is large and my service is a small gesture. I am extending this service for three days from Wednesday. I require ₹ 300 to refill the gas every day. The Modi government has also cut the gas price," he said smiling.
However, his bottom line was that "I have not seen the new currency of ₹2000 denomination so far."
Last Updated Mar 31, 2018, 7:01 PM IST