At last, Bengaluru plans 'signal-free' zones within city
Previously, the BBMP created one-ways to ease Bengaluru's jams.
Now, they are planning a new 'signal-free' zone to speed things up.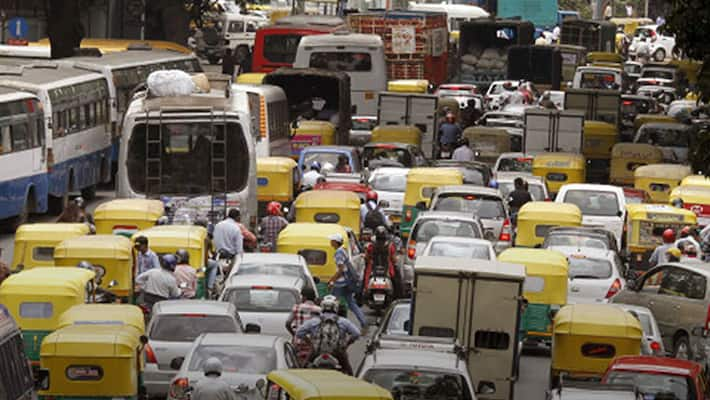 Bengaluru city traffic is a nightmare for all those who have to regularly pass its roads. While the BBMP has tried to address the pain through 'one ways', the random nature of many of them seem to have only added to the confusion. 

However, now the BBMP has planned a new idea - 'signal-free' corridors across the heart of the city. 

The BBMP has announced an ambitious 'signal-free' corridor project over 17 km, from Whitefield to Account Office, that connects to Richmond Circle. There are close to ten signals on this stretch and motorists usually get stuck for hours together on this route during peak hours.

The BBMP took on this project to unlock junctions, especially in areas like Domlur, Old Airport Road, Marathalli, Kundalahalli and Whitefield.

An engineer said the project was planned back in 2009 but was in limbo as there were land acquisition issues. The BBMP managed to win over property owners at Kundalahalli Junction and Hope Farm, as 31 property owners from these surroundings had raised objections to the project. Now all decks have been cleared by giving owners double the usual compensation. 

The BBMP will start the work on road extensions in a few junctions. Similarly, on Old Airport Road and near Domlur, a two skywalks will be constructed to help pedestrians cross over. 

Once these projects are complete, motorists taking this route can zip from Whitefield to Account Office in very less time.

"The skywalks near Domlur is being built at a very fast pace. Similarly, the work near Kemp Fort on Old Airport is also nearing its end. The civil works to widen roads near few junctions all along stretch is also ongoing. 

"Once these are completed, the 'signal-free' corridor will be officially inaugurated," said a BBMP  official.
Last Updated Mar 31, 2018, 6:41 PM IST