Asked for sexual favours, transgender quits job to clean trains
28-year-old transwoman Laya was forced to quit her job.
She used to work in a private firm in Bengaluru.
But she opted to clean trains instead of begging or prostitution.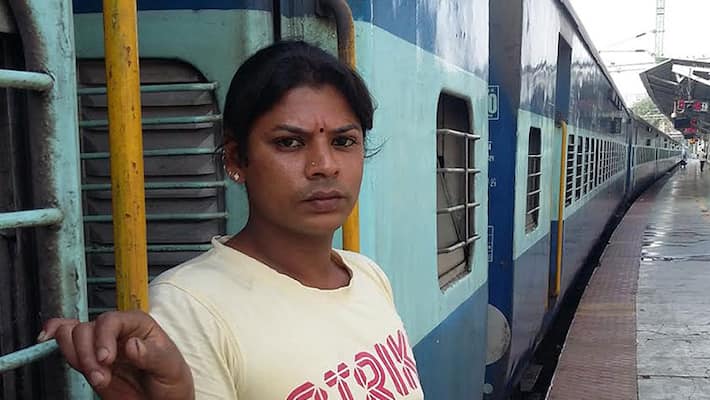 A 28-year-old transgender quit her well-paying job after she was asked for sexual favours by her colleagues, she instead decided to clean railway bogies.

Ostracised by family members for Laya, a 28-year-old B.Com graduate, harassment at the workplace was the last straw. Her colleagues and her seniors passed lewd comments and sought sexual favours. 
"My colleagues approached me for sex. When I complained, my office supervisors asked me to shut my mouth and later even insulted me," said Laya.
Despite being rejected by the society, Laya, had promised herself that she will never stoop to prostitution or begging.
Driven by a determination to prove a point that she still will not fall in the vicious circle of begging and prostitution, this transwoman preferred cleaning rail bogies at Bengaluru's Krantiveera Sangolli Rayanna Railway station.

She is a  Bcom graduate from Basaveshwara College of arts science and commerce in Vijayanagar and expert with computer languages. Before becoming a transwoman, Laya, used to be known as Lokesh Reddy. She belongs to a middle-class family and her parents are retired government employees. 
"At the age of 13, I realised that I was a woman trapped in a man's body," she says.
As her urge grew stronger to realise her dream of living a lifestyle like women, her family, siblings rejected her when they got to know about her sexuality. "My parents were angry and asked me to leave the home. My family avoided meeting me or inviting me on any occasion."

Being a Commerce graduate she managed to get a job in a private firm but she had to quit three firms because of constant sexual harassment and taunts. 

Now, she stays in Whitefield all alone.  She works two shifts and cleans two trains for one day and gets about ₹10,000. 

"I am happy that I have got this job and it gives me satisfaction. I have been doing this job for four years now."
Last Updated Mar 31, 2018, 6:56 PM IST