As rains pound Hyd; Army help sought
Incessant rains continued to batter the city for the third day today
The Telangana government has asked the IT companies to allow their employees in the city to work from home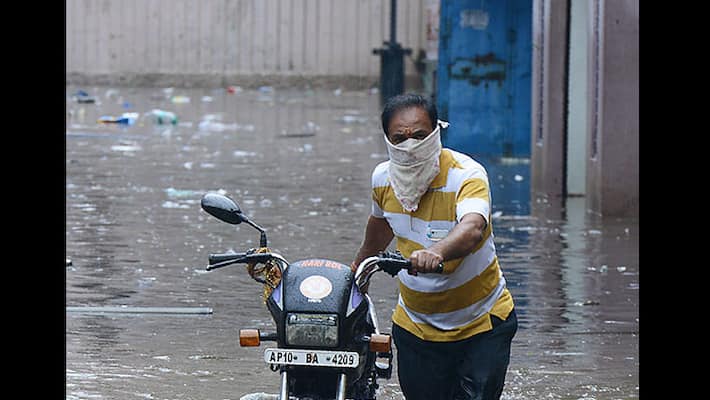 Incessant rains continued to batter the city for the third day today, prompting Telangana government to ask IT companies to allow their employees in the city to work from home even as help has been sought from the Army for rescue operation in some areas.
Reacting to the state government's request, Nasscom sent an advisory to all its members asking them to allow employees to work from home, if possible, in view of the heavy rains.
Following the downpour, which crippled normal life in some parts of the city, the state government has declared a holiday for educational institutions in Greater Hyderabad area today and tomorrow.
Chief Minister K Chandrasekhar Rao, who is in the national capital, reviewed the situation and instructed the Chief Secretary Rajiv Sharma to take stock of the situation and estimate damage caused by rains.
 Accordingly, Rajiv Sharma ordered all the District Collectors to prepare a list of damages and loss due to the heavy rains, an official release from CM's office said.
Telangana's Information Technology Secretary Jayesh Ranjan said they have sent an advisory to IT companies' association to either declare a holiday or allow their employees to work from home following forecast of heavy rains today and tomorrow.
 "We have asked the IT associations to send an advisory to all the IT companies located in the city. Accordingly, they issued advisory to all the IT firms. This is in the interest of safety of the employees.
The response from companies is good," Ranjan told PTI. Heavy rains have been lashing the city, which is a major center for the technology industry, and some other parts of Telangana since the last couple of days.
The government has sought help of the Army for rescue operation in some areas of the city, for which the Defence wing has agreed, a senior official of the Greater Hyderabad Municipal Corporation (GHMC) said today. "We sought their help and they also came forward. They have been given maps and other information of areas like Gachibowli, Nizampet, Alwal and Hakimpet.
They are willing to swing into action whenever we call them, the GHMC official said. Some localities in the low-lying areas of Miyapur, Bachupalli and Nizampet continue to be inundated since the last two days.
GHMC has been supplying food packets to the people in rain-affected areas.
Last Updated Mar 31, 2018, 7:05 PM IST