After 55 days of pain, Sidda the elephant is at death's door.
The tusker has stopped eating and drinking water.
Sadly, though surrounded by humans, Sidda lived and might now die in agony.
Sidda, the wild elephant from Bannerghatta forest, who has been stranded in some backwaters for 55 days after being shot and chased there by villagers has all but lost any hope of survival.
Rescued yesterday, the tusker has been receiving medical help from doctors, who have been injecting him with anti-toxins and giving him glucose water, but he is neither recovering nor is he able to stand up.
The x-ray report taken last Friday revealed a fractured leg bone and some bullets in his body. Besides the 40-year male elephant has lost sight in one eye. While the injection in his leg has been cleared of pus, the swelling remains, and he has stopped consuming any food. The animal also vomits any food fed to him.
Doctors have diagnosed his urine and have confirmed that he's not suffering from Septicemia (an infection of the blood). However, they have been giving him anti-toxins to prevent further infections.
Sidda has stopped drinking water since last Thursday. A healthy elephant consumes 250 litres of water every day. Sidda is not even drinking 50 litres over the past few days, and now has stopped drinking water completely, causing dehydration.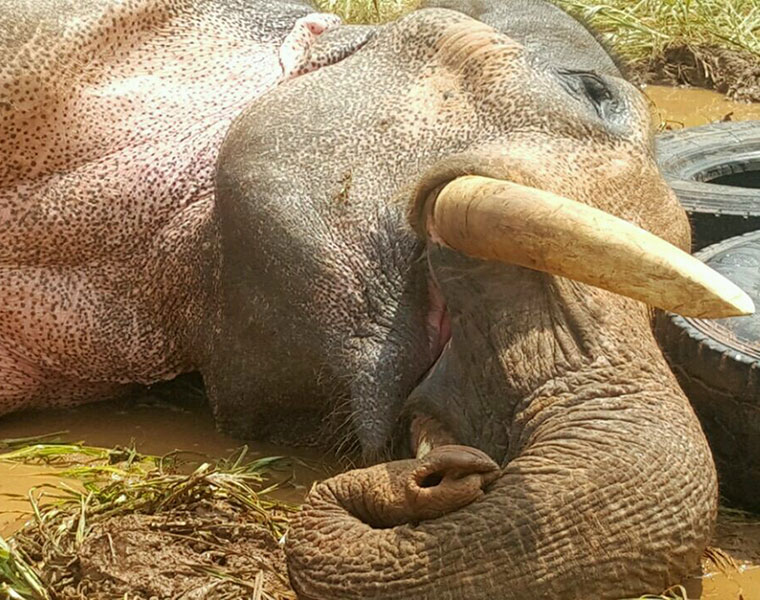 Doctors feel that he is not going to survive due to dehydration and lack of food. They say that his survival chances are just 30%.
Dr Kushalkumar Sharma, Surgeon and Radiologist of Guwahati Veterinary Hospital, Assam, who had come to treat the elephant, has returned on Monday after providing treatment. Currently, local veterinarians are treating the elephant.
Sidda fell into the Manchanabele dam backwaters on 2nd September when villagers started chasing him and shot him with their guns. After that, he remained in the water for a few weeks without any help or rescue. Sidda has been struggling between life and death for 55 days now.
In India, where extreme efforts are taken for every incident, even if a baby falls into a dry borewell, the Karnataka forest department has not bothered to turn towards Sidda for the past one month.
Only when the news went viral in the media, officials have been making any efforts to save him. And now it seems those efforts are in vain. 
In a bizarre irony, the local people and farmers, who shot him with their guns when they discovered him near the Bantaraguppe forest area, are now praying for his health and survival.
This horrible accident was the result of human cruelty. It would have been another matter if this mishap had happened in the wilderness with no human cause or human help. But it is a tragedy that Sidda was stranded amidst so many people and still did not get any help from human beings.
Last Updated 31, Mar 2018, 6:53 PM IST