Anybody can direct: Auto drivers all set to launch Kannada film
A group of auto drivers have raised ₹83 lakh to craft a movie of their own.
The film, which is intended as a romantic thriller film, is titled 'RGV'.
Nagaraj, an auto driver, is the brainchild behind this project.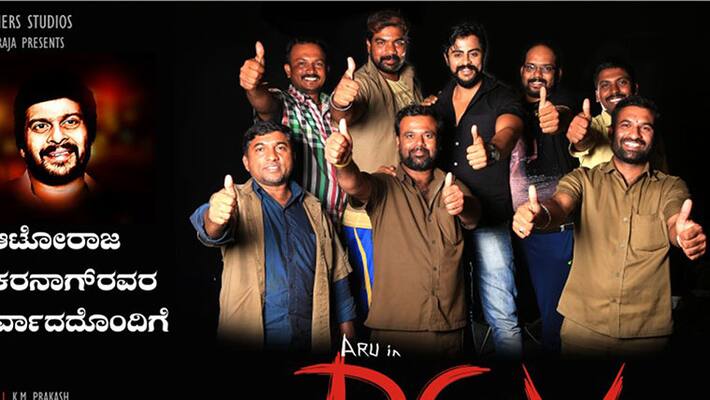 This remarkable tale is the brainchild of 'Auto' Nagraj, who leads a group of auto drivers. During their daily work, they often came in touch with artists from Sandalwood (the Kannada film industry), who ridiculed them for being 'drivers', setting off a spark in their minds. They decided to try and make a film by themselves and thus prove that drivers could also be real filmmakers. 

The film, which is planned as a romantic thriller film. About thirty percent of the movie has been completed so far. 

Nagaraj, the brainchild behind this project told Asianet Newsable that over the past 20 years, he had faced a number of humiliations by a few Sandalwood artists. 

"People ill-treat us when we are in uniform. Now, on November 9, we plan to release our first teaser and also hold an audio launch. The film is titled 'RGV'. It will be a fitting reply to those artists who carry a lot of 'head weight'," said Nagaraj.

Nagaraj, who hails from Mandya district, reached out to over 400 auto drivers and collected ₹83 lakh so far - about ₹1000 from each driver. The fund drive is ongoing, and the team is expecting to raise about a crore to complete the film.

The movie is being directed by AR Shan, the son of veteran Kannada director AR Babu. It has three female characters. The first alphabet of the names of these three artists was taken to create the title 'RGV'. 

Famous actors like Sudha Belavadi, Ramesh Bhat and Arohita Gowda will be part of the movie. 
"When we approached Sudha Belavadi, she appreciated our initiative. She also refused to charge any fees. She is humble despite being such a famous actor," said Dinesh Jogi, the film's production manager.

"After Kannada, we will launch the film in Telugu and Tamil languages too. Hence we want someone who has worked in Tamil or Telugu film industry," said Nagaraj

The songs for the film have been written by Nagendra Prasad and music has been composed by Koushik Harsha, who has also composed for the movie Benki Patna. 

"We are also planning to produce a song which will feature famous Kannada actors in a guest appearance. The song will be a dedication to filmmaker Shankar Nag. Darshan, Sudeep, Ajay Rao, Duniya Vijay and Yash will be approached to appear in the song," said Nagaraj.
Kaushik Harsha

The film-makers have shot scenes in Coorg district and are planning shoots in Sri Lanka, Mysuru and Maralwadi (Near Kanakpura). About a thousand autos will be featured in the title song. 
"I have done music for Benki Patna and the music for my next film, Yeradu Kanasu, is also complete and will be releasing next month. But I have a different sentiment for RGV as auto drivers are producing it. Auto drivers are our first audience, and they are behind every film success as they are first one to watch our movies. Creating music for them is a proud feeling," said, Kaushik Harsha, Music Director.
Last Updated Mar 31, 2022, 12:41 PM IST